Why You Should Attend AWAI's
Fasttrack to Copywriting Success
Bootcamp and Job Fair
It happened to me. And it can happen to you.
I didn't want to let my dream of living
the writer's life die, but going it alone wasn't working.
I needed a push. A jumpstart, really.
Do me favor and watch this short video …
it has information that could change your life.
Take the first step to change your life today!
AWAI's 2012
FastTrack to Copywriting Success Bootcamp and Job Fair
Delray Beach, Florida
October 24-27, 2012
Work with the AWAI Team on a Real Writing Project!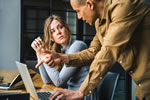 "Simulated Training" is AWAI's newest interactive learning where you get to work directly with AWAI's copy chief on a real writing project.
Not only will you experience what it's like to write for a real client — you'll learn what to do at every stage of the writing process … plus you'll get live personal feedback on your writing.
And right now, we're offering a limited number of spots FREE to members of our highest level of learning.
Go here now for full details …
Published: August 9, 2011