Why You Should Attend AWAI's
Fasttrack to Copywriting Success
Bootcamp and Job Fair
It happened to me. And it can happen to you.
I didn't want to let my dream of living
the writer's life die, but going it alone wasn't working.
I needed a push. A jumpstart, really.
Do me favor and watch this short video …
it has information that could change your life.
Take the first step to change your life today!
AWAI's 2012
FastTrack to Copywriting Success Bootcamp and Job Fair
Delray Beach, Florida
October 24-27, 2012
Biggest Career-Boosting Event of the Year!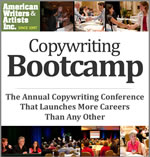 Get million-dollar industry secrets and cutting-edge techniques straight from the experts who created them …
Network with fellow writers of all levels and build a support team to keep you motivated and on track …
PLUS land new clients – or your first client – at our ultimate job fair for freelance writers …
Join us for our biggest writer's event of the year to get all this and more!
Published: August 9, 2011