Your Money-Making Website

I have a few questions for you.
What are your hobbies? How about interests? What do you do for fun?
What are you passionate about?
For me, it's indie music, kayaking, cycling, foreign films, and craft beer.
Take a moment to think of your top 5.
Could be organic gardening, customizing cars, yoga, golf, quilting … you get the idea.
Now think about where you go when you need new equipment, news, answers, or just plain advice and information on those topics.
I'm betting that these days you go online.
And that's the heart of the Carefree business opportunity I'd like to tell you about today. It's the perfect way to:
"Dip your toe" into making money online – the experience will make starting other Internet ventures much easier
Get a second income stream started very quickly – between $750 and $4,000 a month
Work just a few hours a week – that's a truly passive income
Make money around one of your passions in life
I'm talking about setting up your own website that brings in cash automatically.
All the content on that site will be centered on one specific topic that web surfers are searching for. And the greater your interest in the topic, the better. (That's where the passions I asked you to brainstorm come in.)
All you have to do to the site is add easy-to-create content. It all happens at your own pace – you "work" when you have the time. And with the website creation software out there today, it'll be as easy as sending an email.
It could be short articles, how-to guides, product reviews, reader Q&As, videos (no editing needed, and a "flip" camcorder or the video function on your digital camera is just fine) … really anything you can think of that would be useful to someone looking for information and advice in that area.
But you wouldn't make money without one last piece of content: advertisements.
So you'll include ads for products and services related to the topic on your site. Again, it's very easy to set up these relationships with advertisers. As their affiliate, they'll give you the ads you post, take the orders, handle customer service and everything. All you have to do is collect the checks they send you.
Probably the easiest way to explain what I mean is to take a look at CoffeeDetective.com. It's a site created by Nick Usborne aimed at people who are interested in brewing gourmet coffee at home.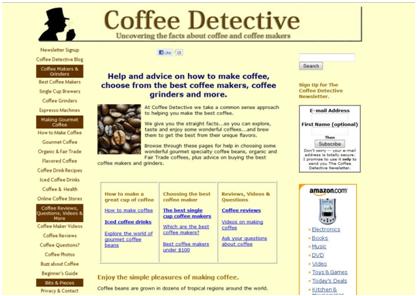 Nick makes up to $50,000 a year with this site. And he's told me he only works a few hours a week on it, mostly adding new content like articles and videos.
"You don't have to be a talented writer," says Nick. "But I do think you need to enjoy writing about your chosen topic."
Sometimes he goes weeks without even touching it. He doesn't have customers. He doesn't have to sell anything directly. Yet he gets checks every month thanks to his relationships with many different advertisers.
It's thanks to the thousands of people searching on Google and other search engines for tips on using a French press, choosing the best coffee grinder, how to make a flavored coffee drink, or the like.
A large percentage of those people find Nick's site, which has become a go-to online resource for coffee lovers. They read the articles. And many of them buy the products he's advertising on each page – things like coffee makers, gourmet coffee blends, and other accessories. That's when Nick gets paid.
As you can see, it's the perfect Carefree Business. Says Nick:
"No clients. No deadlines. No pressure. It's all down to me – when I work, how hard I work, when I get things done. And the best part … this is passive income. If I take two weeks off, that's fine. The site is still there, visitors keep coming, and the money keeps flowing."
If this sort of business interests you, I'd like to help you get started.
Starting Your Money-Making Website
Today, we'll tackle the first step: picking the topic of your website.
The first thing I'd like you to do is write down your top five passions, interests, and hobbies, just like I did.
Now you have to narrow your list down to the topic that has the best money-making potential, i.e., the most people seeking information and willing to buy products related to that topic. You should also enjoy writing, reading, and learning about it.
The sweet spot is a niche that has a large audience and a good number of high-priced products you can promote.
"Use a little common sense," says Nick.
If you focus on the study of insects, for example, you may find it hard to make money.
"The number of products associated with this topic is limited," he explains. "And this is a niche subject that appeals to only a small number of people."
But a topic like organic gardening would work because many people are interested in this hobby. They need information and are willing to buy products like all-natural pesticides, organic seeds, books, and more.
Or take yoga, which is a growing trend and features a large number of products like mats, apparel, books, DVDs, and more, and has great money-making potential. This is another great subject for a money-making website.
Going through the criteria listed above (large audience, a lot of products to sell), which of your topics has the best potential for your business?
First, look at them closely. Realistically, which has the potential to attract a large number of customers? Your niche shouldn't be too obscure.
Then research websites like ClickBank, Amazon, and those of big name retailers and manufacturers. Look for products that match your five business ideas. These will be the companies that send you ads to display on your site. Which potential topic has the most high-priced products?
Based on those two factors, you should be able to narrow your business down to one niche with the best money-making potential.
That's a good first step. In a future issue, I'll help you fine-tune your niche to capture an underserved portion of your market. Nick calls this "bridging the gap."
Then I'll teach you how to set up your first website – with the software available today, you can do it in an afternoon. And then you'll learn how to create content that will attract visitors primed to buy, and how to set up effective advertising … which all leads to collecting checks for just a few hours' work each week.
For now, let me know what niche you chose … or if you need help narrowing down your list. You can post a comment here or send me an email (askjason@awaionline.com) if you'd rather keep it between us.
And if you want to move at a faster pace, check out the free teleconference Nick Usborne is hosting in which he details his step-by-step strategy for putting together money-making websites. It is scheduled for Aug. 23, although the replay will be available if you can't make the live call.
Just go here to sign up for this FREE call.

The Professional Writers' Alliance
At last, a professional organization that caters to the needs of direct-response industry writers. Find out how membership can change the course of your career. Learn More »

Published: August 19, 2011