AWAI Announces:


Dan Kennedy's Writing for Info Marketers
Training and Certification Program

In order to support yourself as a professional writer, all you need is a cadre of clients who "consume" a lot of writing repeatedly, month in, and month out.

… Clients who can provide you with certainty, security and a steady flow of assignments.

And there's no better place to get them than inside the information marketing industry.

Information marketers' businesses use up more writing than any other, yet, ironically, many owners of these businesses are not good writers themselves or can do it but don't want to. And the quantity they need precludes them from doing it all.

That's why AWAI is excited to announce million-dollar copywriter Dan Kennedy's comprehensive new program he's created exclusively for AWAI to prepare writers and copywriters specifically to work within the information marketing industry.

With Dan Kennedy's Writing for Info Marketers Training and Certification Program you'll receive a pass-key to a vast storehouse of freelance writing opportunities inside the 'information marketing industry' where Dan has lived for 35 years … where clients need good writers now.

He'll tell you who the info-marketers are, where to find them, how to write for them … give you templates and examples of what they need … prepare you in every way to succeed with these clients and arrange to have your availability as a freelance writing advertised for you to these clients, at a ZERO cost to you.

Nothing like this has ever been provided to American Writers & Artists Members. It is a brand new, breakthrough opportunity providing:
Thorough, specialist preparedness for certain writing opportunities
Pointed access to opportunities and clients
Endorsement via Certification
Actual advertising of your availability done for you direct to the potential clients.
Literally, everything you need to succeed as a freelance copywriter and/or writer for the info-marketing industry …
Dan Kennedy's Writing for Info Marketers Training and Certification Program includes four online modules:
| | |
| --- | --- |
| Module 1 | Comprehensive 'Tour' of the Info-Marketing Industry |
| Module 2 | Needs of these Clients & Specific Writing Opportunities |
| Module 3 | Client-Getting: Who, Where & How: Who They Are, Where To Find Them, How To Effectively Present Yourself To Them |
| Module 4 | Effective Copywriting for Info-Marketers with a Portfolio of Samples and Analysis |
You will also receive an (offline) Reference Manual, including Writing Templates, Outlines, Checklists and Samples, a copy of the up-dated Official Get Rich Guide To Info-Marketing from the Information Marketing Association, published by Entrepreneur Press as a course textbook, and Dan's exclusive Certification.
Dan is offering a special $500 discount exclusively to AWAI until Friday September 23rd 2011.
Learn more about Dan Kennedy's Writing for Info Marketers Training and Certification Program.
Note: A limited size group of participants in this Program are being accepted now, for the Program beginning IN OCTOBER.
To be included you need to enroll before Friday September 23rd 2011.
Biggest Career-Boosting Event of the Year!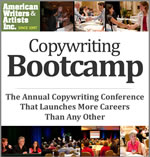 Get million-dollar industry secrets and cutting-edge techniques straight from the experts who created them …
Network with fellow writers of all levels and build a support team to keep you motivated and on track …
PLUS land new clients – or your first client – at our ultimate job fair for freelance writers …
Join us for our biggest writer's event of the year to get all this and more!
Published: September 15, 2011