The October Issue of The Barefoot Writer Available Now
The second issue of The Barefoot Writer's Club Magazine, your source for advice on making a great living from a freelance writing career, has just been published.
In this month's issue, you'll get plenty of tried-and-tested information for breaking free from the 9-to-5 world and enjoying a much more rewarding – and lucrative – life as a freelancer.
Direct from working Barefoot Writers like Jen Stevens, Michael Masterson, Herschell Gordon Lewis, Paul Hollingshead, and more, you'll learn many new techniques to strengthen your writing. Plus, you'll get the scoop on several little-known writing opportunities – including how to get awesome freebies from companies for writing a few articles.
Here's what you'll get in the October issue:
The key to getting your first paid gig
The "talk it out" trick for more readable and powerful writing
The most important thing you must know about writing well
How to get luxurious spa treatments on the house – and get paid, too
Hundreds of potential clients eager to hire you … in your community
Writing your way to free stuff
And much, much more …
If you aren't yet a member of The Barefoot Writer's Club and would like to receive this issue, please go here for details on signing up.
Work with the AWAI Team on a Real Writing Project!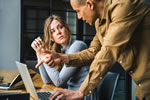 "Simulated Training" is AWAI's newest interactive learning where you get to work directly with AWAI's copy chief on a real writing project.
Not only will you experience what it's like to write for a real client — you'll learn what to do at every stage of the writing process … plus you'll get live personal feedback on your writing.
And right now, we're offering a limited number of spots FREE to members of our highest level of learning.
Go here now for full details …
Published: October 7, 2011