Start writing your 2012 Bootcamp story now.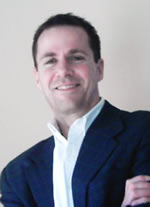 Copywriters are not your typical crowd.
The ones I'm meeting at this year's Bootcamp are enthusiastic, entrepreneurial, creative, forward-thinking types.
Instead of fearing the future and fretting about the present, copywriters here are forging ahead to achieve their personal version of the writer's life.
There are 250 people here, and each person has a story to tell.
I'll share a few stories in a moment, but first a few highlights from opening night …
AWAI Executive Director Katie Yeakle kicked things off by challenging us to be decisive about the money we want to make. Because she explained, money brings us freedom and options.
What do you want?
Then we wrote down three numbers: the amount of money we want to earn in 2012, the amount of money we want to be earning five years from now, and the amount of money we'd like to have socked away for a secure future.
If we're going to achieve those numbers, we need to improve our copywriting skills, our client-getting skills, and our belief structure about ourselves.
The key is to find the very next thing to do in each of those areas.
It's not always easy. Just ask copywriter and entrepreneur Joe Sugarman. He claims he's failed more than anyone he knows. Yet copywriting has given Joe a wealth of colorful stories (and millions of dollars.)
During his keynote speech, Joe revealed that over the course of his career, he's been a CIA spy in Germany during the Cold War, the creator of the Batman Credit Card (a colossal failure), and the genius behind BluBlockers sunglasses (a direct-response phenomenon for 25 years).
Great stories come from taking risks.
What's your story?
The thing is, everyone here has a story, from Wall of Famers to first-timers.
Joshua Boswell was desperate for the writer's life so he could take care of his growing family, and hungry for the freedom that would allow him to spend time with them.
Starr Daubenmire went after the writer's life after getting laid off. She's had steady copywriting work ever since, and now collaborates on projects with a legend in the industry.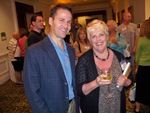 Zoë Rabinowitz has a thriving psychotherapy practice and two Masters degrees. She's here for the first time because she has a desire to help people through alternative health.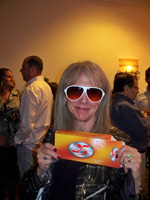 Amy O'Donnell is an IT professional in her other life, but has a strong independent streak and longs to be in charge of her own destiny.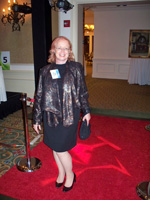 Me? One of my emotional purposes is to give my four kids opportunities that I didn't have.
I want my son to follow through on his dream of going to Yale, regardless of how much it costs. I want my daughter to get the best voice and piano lessons and apply to Julliard in seven years. I want them all to travel the world with me in the few short years I have with them.
What's your very next step?
How do you apply these stories to your own situation, and move forward in your career? Let me leave you with two simple action steps:
Figure out which area you need to work on most. Is it your copywriting skills? Getting clients? Breaking down mental barriers?
Decide on the very next thing you can do in that area. Don't worry about changing everything this coming year. Start with one small thing now.
Today's sessions are all focused on either getting clients or improving your skills, so I'll have some specific answers for you in tomorrow's post.
What are you going to focus on? Have you figured out your "why"? If you don't mind making it public, I'd love to hear about. You can leave a comment below.
One last thing. Over five hours of sessions today covered getting clients. I'll cover some of it tomorrow, but if you're not here at Bootcamp with us, you can get everything in the 2011 FastTrack to Success Bootcamp Home Study program.
Even if you can't be here in person, AWAI has arranged for you to get the entire Bootcamp experience from the comfort of your own home … for a fraction of the price … with the 2011 Fasttrack to Success Bootcamp Home Study program. This amazing presentation package is the closest thing you can ever get to being at Bootcamp: EVERY presentation, ALL the support material and learning resources, EVERY spec assignment – and a free teleconference series to get you rolling.

The Professional Writers' Alliance
At last, a professional organization that caters to the needs of direct-response industry writers. Find out how membership can change the course of your career. Learn More »

Published: October 27, 2011