Special Announcement …


Congratulations to AWAI's Latest $10K Challenge Winner …

At Bootcamp last week, AWAI Co-Managing Partner, Rebecca Matter announced the newest winner of AWAI's "$10K Spec Challenge."

And the winner is …

Mindy Tyson McHorse from Albuquerque, NM!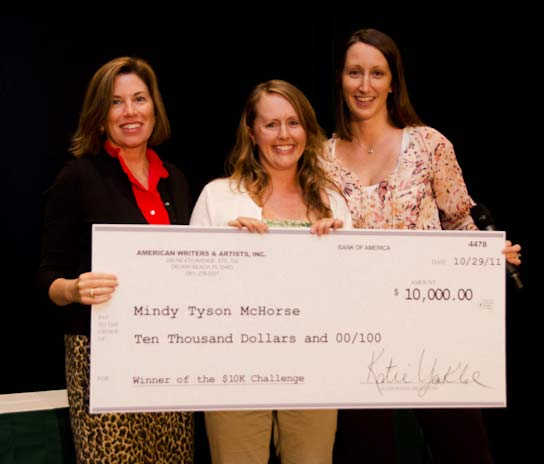 From left to right: Katie Yeakle, Mindy Tyson McHorse and Rebecca Matter
According to Rebecca,
"Along with being a talented writer, Mindy is what I consider a dream freelancer – she thinks beyond the project she's assigned – always trying to figure out how to make the campaign even more successful, she's constantly presenting new ideas, and she ALWAYS meets her deadlines."
When asked how she feels to be the 2011 10K Challenge Winner, Mindy replied with:
"Here's proof of a dream — or rather, a life-changing goal — coming true! Four years ago, I resolved to be the $10K Challenge Winner. I even made a mockup of a check to remind me of my goal. I made it out for $10,000, printed my name as the Challenge Winner, slapped on an image of Katie's signature, and then laminated it.
"That check has been hanging on a bulletin board above my desk ever since. Through the long months of 'finding my copy-legs' it's served as a motivator to keep me pressing forward.
"Winning is the most incredible validation I've experienced, because I did it in my own way, on my own time. It's like Bob Bly says — 'Copywriting isn't a career, because there's no career path.' I've since realized this is a lifestyle choice and that everything good that happens now is because I took the initiative to DO something. Although I have to say I got a ton of support and encouragement from AWAI, from copywriting colleagues, and from my family, for which I'm incredibly grateful!
"Now that I've hit this milestone, I'm pressing on to bigger and bolder ones. It's certainly not an end-goal for me. More like a kick in the pants that says, 'Hey, how much more proof do you need that you can do this?' Needless to say, I'm pretty stoked about all the future has to offer!
"If you're just starting out, let this serve as proof that you WILL achieve the goals you make right now. Reach out to your support networks, and especially to AWAI members for motivation — no one else better understands what you're going through right now. So don't be afraid to go for the big, bold goals. They'll press you to do, be, and challenge yourself more than you've ever envisioned — but every step of the way will be worth it."
Mindy is living proof that AWAI members can accomplish their dreams of living the writer's life if they're willing to work for it.
AWAI's 2012 FastTrack to Copywriting Success
Bootcamp and Job Fair
October 24 – 27, 2012
Delray Beach, Fl
Questions? Call AWAI's Member Services Team
866-879-2924 or 561-278-5557 (outside US)

The Professional Writers' Alliance
At last, a professional organization that caters to the needs of direct-response industry writers. Find out how membership can change the course of your career. Learn More »

Published: November 3, 2011