3 Ways to Be a Better Writer — By Not
Writing a Word

Never stop learning.
As a web writer, you've probably heard this is one of the keys to your success. It's a true statement. And, part of the learning process is to keep refining and improving your writing abilities.
If you're like me, you're always on the lookout for a way to improve your craft. One of the best ways to do that is to practice writing every single day. But, sometimes more writing isn't the answer. If you're struggling to bring your writing to a new level or getting frustrated with a particular project, you might find your breakthrough comes when you step away from your writing and do a non-writing exercise to enhance your creativity.
If you want to improve your writing without ever writing a word, try one of these three exercises. Each is designed to improve your creativity and help you return to your writing feeling refreshed and energized.
Take a Break
Are you wrapped up in deadlines, word counts, and perfect compositions? Have you told yourself you'll sit there until, "It's done." While admirable, this focused dedication can hurt your ability to get things done. It might be time to take a break, get out of your chair, and away from the computer.
The WebMD article, "Train Your Brain With Exercise," by Jean Lawrence offers some useful suggestions for an invigorating break. For example, Christin Anderson, MS, Wellness and Fitness coordinator of the University of San Francisco says, "When one exercises, you can think more clearly, perform better, and your morale is better. This is pure science — stimulate your nervous system and function at a higher level."
In the same article, John J. Ratey, MD, an associate professor at Harvard Medical School and author of A User's Guide to the Brain says, "Exercise is really for the brain, not the body. It affects mood, vitality, alertness, and feelings of well-being."
We've heard for years that regular exercise is great for the body and mind, but Ratey "recommends 8 to 12 minutes a day of sweating and breathing-hard exercise (60% of maximum heart rate) for brain training."
Why not take a break, go outside, and walk briskly for 10-15 minutes halfway through your dedicated writing session? Some writers set an alarm clock or kitchen timer and get up to stretch or walk every 30-45 minutes. Can't or don't want to go outside? Walk up and down the stairs, get on a treadmill, or turn up some music and dance.
You can improvise a quick, high-intensity work out like Ratey recommends by alternating between doing jumping jacks for a minute and marching in place for a minute. Do this for 8 minutes, and you'll break a sweat, make yourself breathe hard, and refresh your mental energy.
Give it a try. Your brain will thank you and your clients will, too.
Sit Back, Relax, and … Read
"You are what you read."
How many times have we heard that as writers? Famous politicians, writers, and business people credit some of their success to reading. To quote Stephen King:
"If you don't have time to read, you don't have the time (or the tools) to write. Simple as that."
He may be talking about novels and short stories, but the adage applies to all writing. You'll be hard-pressed to find just the right word … well, if you don't know the word.
Building vocabulary is natural with reading. My daughter started reading when she was three. In first grade, she tested at third grade levels for reading and writing. This year, she started high school and maxed out the assessment test for high school reading and writing. While I think she's naturally brilliant (parental prerogative), the truth is that she's developed these abilities by being a constant reader. She also challenged herself in the choice of material. She's never at a loss for words, and with her quick wit and large vocabulary, she keeps me on my toes.
Imagine developing a deep reservoir of knowledge and vocabulary as a web writer just by reading. Find and read books that interest you in all genres and you'll build your understanding of grammar, sentence structure, and how to tell a story (often crucial in writing good web copy). Set a goal to read one book per month, week, or quarter. As King says, make the time and then you'll have the tools to be a better writer.
Go on a Date
No, it's not what you're thinking. I'm talking about an Artist Date as described by Julia Cameron in The Artist's Way. In her book, Cameron walks the reader through a 12-week course on recovering the artist within. Part of the prescription is a weekly outing or date. Her website describes it like this:
"The Artist Date is a once-weekly, festive, solo expedition to explore something that interests you. The Artist Date need not be overtly 'artistic' — think mischief more than mastery. Artist Dates fire up the imagination. They spark whimsy. They encourage play. Since art is about the play of ideas, they feed our creative work by replenishing our inner well of images and inspiration."
As web writers, we may downplay the idea of creativity — since much of what we do follows a formula or format. But, we sell ourselves short when we do that. Anyone who's spent hours working on the same headline, or crafting an engaging lead, will tell you a lot of creativity went into it. I've even heard other writers refer to their white papers as "babies." We put a lot of ourselves into each and every piece we write. That is the creative essence that makes the sales page, landing page, blog post, or home page work.
Carve out an hour each week just for you — no spouse, kids, friends, or extended family members invited. Borrow the kid's crayons, grab some paper and glue, dance, go fishing, or paint. Better yet, finger paint. If you need some guidance on exactly what to do for an Artist Date, or want to know more about why Cameron suggests taking one each week, watch this video from her website.
All three of these ideas involve you making time for you: your body, your mind, and your creative soul. Once you keep yourself charged full of energy and ideas, you'll bring more to your writing … and it will only get better and come easier. That means you'll be delivering better results with less effort.
This article, 3 Ways to Be a Better Writer – By Not Writing a Word, was originally published by Wealthy Web Writer.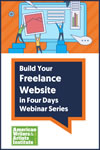 Build Your Freelance Website in Four Days
No matter what niche you're in, if you're a freelancer, you must have a website that showcases what you do. You can launch your own professional website in just 4 days. Experts show you every step. Learn More »

Published: November 23, 2011