Special Announcement …


Congratulations to Dan Kennedy – AWAI's 2011 Copywriter of the Year

Each year, AWAI selects one copywriter who has succeeded in his or her niche and who has contributed to the continuing education and training of copywriters and marketers.

This year, AWAI is proud to name copywriting legend Dan Kennedy, as the 2011 Copywriter of the Year.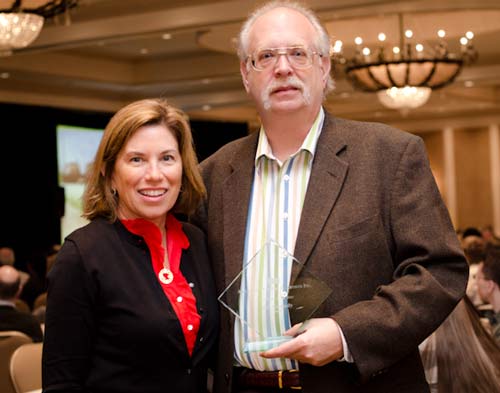 Dan Kennedy with Katie Yeakle
Dan's stats are impressive. He built Glazer-Kennedy from the ground up, with one newsletter and 4 subscribers. Today it's the largest publishing and membership business of its kind and the largest paid circulation marketing newsletter in the world.
His freelance copywriting income has topped 7-figures annually for the last 10 years … and high six-figures for the 20 years before that.
He's consulted and written copy to launch over 200 info-marketing businesses with combined yearly revenues topping $500 million.
He's written over 100 ads, sales letters and infomercials that each sold more than $100 million in goods and services.
He's one of the highest paid copywriters, routinely commanding upwards from $100,000 plus royalties per project and 85% of all his clients repeat or continue with him.
This has all been the result of the superior "feeder system" he's created for himself that he shared during his 2011 Bootcamp presentation.
He began, though, just like many new AWAI copywriters … with little to no experience … . willing to do any job at any price.
What he did, and has done so well, is he deliberately made himself into a leading influential figure in a specific field capable of providing lots of clients and lots of work.
Dan is all about "salesmanship in print." He crosses varied product categories – such as health and beauty, financial and moneymaking opportunities, industrial and B2B and now writes 100 packages a year!
He's worked in all outlets of media – currently you can hear his words on radio commercials, TV infomercials, print ads, direct mail, web sites, online videos, email campaigns.
Dan's brand-name clients past and present include Weight Watchers, Mass Mutual Insurance, International Correspondence Schools, Guthy-Renker (20+ year client) … but tends to work much more with entrepreneurial clients, particularly info-marketers.
In addition to writing for big national companies he also works with Main Street merchants and professionals operating at the local level.
To him, this demonstrates the universal applicability of sound direct-response copywriting.
The late great Gary Halbert said: "Dan is one of the damn few copywriters who consistently puts his money on the line with his own businesses and campaigns."
Dan is in his 37th year as copywriter and consultant. He's still in the trenches … helping his clients be more successful than ever.
Past winners of the AWAI Copywriter of the Year award include Ted Nicholas, Mike Palmer, Bob Bly, Clayton Makepeace, Donna Doyle and John Forde.
Dan Kennedy is the author of 19 books that have appeared on Inc Magazine's 100 Best Business Books list, Business Week Magazine, and Amazon's and USAToday's best seller lists.
His The Ultimate Sales Letter has record longevity as the "Bible of Sales Copywriting" for 20 years now.
AWAI's 2012 FastTrack to Copywriting Success
Bootcamp and Job Fair
October 24 – 27, 2012
Delray Beach, Fl
Questions? Call AWAI's Member Services Team
866-879-2924 or 561-278-5557 (outside US)

The Professional Writers' Alliance
At last, a professional organization that caters to the needs of direct-response industry writers. Find out how membership can change the course of your career. Learn More »

Published: November 7, 2011