Do I Need a Website to Land Clients?

If you want to rise to the top echelon as a freelance writer or designer, you must have a website. Here are the reasons:
Clients expect and want it.
A website gives instant access to your bio, resume, credentials, client list, testimonials, and, most importantly, your portfolio of samples.
With a website, a client can see your work in seconds vs. waiting 24 hours or more for a FedEx to arrive.
Inquiry fulfillment with a website is free vs. the cost of sending a big package via FedEx (which includes overnight charges, photocopies, envelopes, folders, and labor).
If you say you write websites, it seems odd to the client that you do not even have one of your own.
A website enables you to collect the email addresses of potential clients. That allows you to market to them in the future at virtually zero cost vs. the cost of sending out expensive newsletters or promotional mailings.
When I get a potential client, they want to know several things from me right away. "Who do you work for?" And "Can I see sample of your work?" I tell them to go to Bly.com. They can see my list of clients and samples of my work instantly. It's much better than having to recite information or having to mail samples.
It doesn't cost much to get a domain name or to build a website. You can register your domain for about $20. You can have your website designed and set up for under $500. Or, do it yourself for around $100.
Having my own website and e-zine has been the most profitable self-promotion I've ever done in my 22 years as a freelance copywriter. Bar none.
My website has saved me thousands of dollars in FedEx charges, postage, envelopes, and photocopying — and countless hours of labor — in sending packages and samples to potential clients.
Now, they can see my credentials, bio, client list, and portfolio of samples instantly, simply by visiting my website.
It has also helped me close tens of thousands of dollars in copywriting assignments with new clients right over the phone … assignments I am convinced I may not otherwise have gotten.
And my e-zine has also generated many tens of thousands of dollars in new copywriting assignments … helped me increase my repeat business with existing clients … and generated hundreds of leads from potential new clients …
… all at a tiny fraction of the cost of generating the same amount of business and leads using direct mail, ads, and traditional print marketing techniques.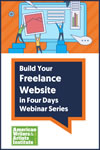 Build Your Freelance Website in Four Days
No matter what niche you're in, if you're a freelancer, you must have a website that showcases what you do. You can launch your own professional website in just 4 days. Experts show you every step. Learn More »

Published: November 21, 2011