Geoff Hall!
"My goal for 2012 is to get my alternative Travel Guide to Great Britain ("British Stuff: Life in Britain through 101 everyday objects") completed and successfully published, and available as an e-book, before the Opening Ceremony of the London Olympics on 27th July 2012. (And then to enjoy promoting it by telling anyone who will listen about it … )"
If you haven't posted your goal yet, do it today for a chance to win!
Biggest Career-Boosting Event of the Year!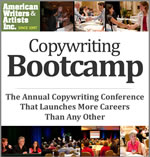 Get million-dollar industry secrets and cutting-edge techniques straight from the experts who created them …
Network with fellow writers of all levels and build a support team to keep you motivated and on track …
PLUS land new clients – or your first client – at our ultimate job fair for freelance writers …
Join us for our biggest writer's event of the year to get all this and more!
Published: December 14, 2011