Geoff Hall!
"My goal for 2012 is to get my alternative Travel Guide to Great Britain ("British Stuff: Life in Britain through 101 everyday objects") completed and successfully published, and available as an e-book, before the Opening Ceremony of the London Olympics on 27th July 2012. (And then to enjoy promoting it by telling anyone who will listen about it … )"
If you haven't posted your goal yet, do it today for a chance to win!
Work with the AWAI Team on a Real Writing Project!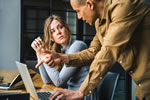 "Simulated Training" is AWAI's newest interactive learning where you get to work directly with AWAI's copy chief on a real writing project.
Not only will you experience what it's like to write for a real client — you'll learn what to do at every stage of the writing process … plus you'll get live personal feedback on your writing.
And right now, we're offering a limited number of spots FREE to members of our highest level of learning.
Go here now for full details …
Published: December 14, 2011