Mary Moseley!
"My goal for 2012 is to become a better writer so that each and every one of my blog posts is inspiration and motivation for my readers to preserve their precious memories."
We still have 9 more iPads left to give away … But to be eligible to win, you must let us know at least one goal you'd like to achieve in 2012.
If you haven't posted your goal yet, do it today for a chance to win!
Work with the AWAI Team on a Real Writing Project!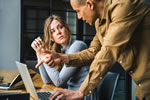 "Simulated Training" is AWAI's newest interactive learning where you get to work directly with AWAI's copy chief on a real writing project.
Not only will you experience what it's like to write for a real client — you'll learn what to do at every stage of the writing process … plus you'll get live personal feedback on your writing.
And right now, we're offering a limited number of spots FREE to members of our highest level of learning.
Go here now for full details …
Published: December 5, 2011