Gail Glanville!
"My 2012 goals: Write 2 more ebooks, win 2 more spec assignments, move to Florida, buy a house and imagine that I can become so fulfilled and satisfied as a web content writer that I am happy all the time!"
No more iPads left to give away … But why not post your "big" goal for the coming year anyway. Telling the world your plans is a great way to make sure you follow through – talk about accountability partners.
Just go here to post your goal to our website.
Biggest Career-Boosting Event of the Year!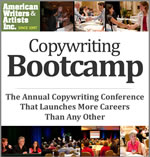 Get million-dollar industry secrets and cutting-edge techniques straight from the experts who created them …
Network with fellow writers of all levels and build a support team to keep you motivated and on track …
PLUS land new clients – or your first client – at our ultimate job fair for freelance writers …
Join us for our biggest writer's event of the year to get all this and more!
Published: December 16, 2011