Less to Worry About

Your spouse loses his or her job.
Is it a big deal?
As AWAI member Christina Gillick shares today, if you're living the writer's life … it doesn't have to be.
Yet she knows from experience how hard it can be to take that first big step.
So she'll also share how she overcame her own doubts and finally made the leap once and for all.
Christina Gillick: Direct-Response Web Copywriter and Marketing Consultant for Personal Development Training Companies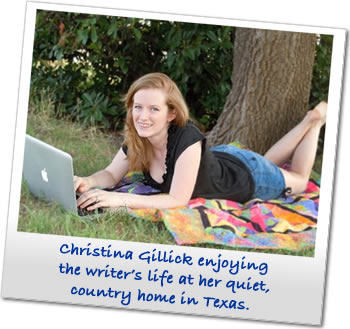 What was the biggest highlight of your writing career this year?
The biggest highlight of my writing career this year was attending the FastTrack to Copywriting Success Bootcamp and Job Fair and having numerous people recognize my name. I've been working to position myself as an expert in the personal development field and web writing world, but I had no idea how well it was working until my peers at Bootcamp treated me like a true expert.
What inspires you most these days?
The thing that inspires me most is reading other people's success stories. I love to check out the Wall of Fame and know that every day more and more people are making a great living and a name for themselves in this industry. It's also great to know we will never be able to meet the demand and there will always be work available. The writer's life really is attainable to anyone who is willing to study and apply what he or she learns.
What has living the writer's life meant to you this year?
My husband and I haven't had to worry about our income. Because of the security of the writer's life, we didn't have to worry when he lost his job. He didn't even have to go job hunting. Instead, he's decided to become an autoresponder copywriter!
The writer's life also meant we were able to have some fun this year by taking several vacations and getting our house remodeled.
What's your goal for 2012?
My goal for 2012 is to set up several passive income streams – like a few money-making websites and an e-book self-publishing business. My plan is to reduce my working hours while tripling my income by the end of 2012.
Knowing what you know now, what advice would you give to someone just starting out?
My advice to someone just starting out would be to just do something. Choose a niche, any niche, and get started. Don't worry about getting everything in place first or being perfect. Just start applying for projects as soon as possible and learn as you go.
One AWAI program you'd recommend people take and why?
Making the Leap. My doubts in my ability held me back for a long time, but reading the stories in Making the Leap gave me the courage to move forward, find clients, and build my business.
I'd recommend it to anyone who wants to live the writer's life – whether you're just getting started or you're an experienced writer who hasn't yet transitioned to full-time freelancer.

Making the Leap: A Practical, Hands-On Guide to Getting from Wherever You Are ... To the Freedom, Independence, and Financial Rewards of Living The Writer's Life!
This eight-step, hands-on guide gives you the confidence you need to make the leap from aspiring copywriter to polished professional. Learn More »

Published: December 7, 2011