Keeping Family First

"More time with family …"
For many freelancers, it's a big benefit to living the writer's life.
AWAI Circle of Success Member Cindy Cyr is one of them. She enjoys a thriving career full of high-paying clients, yet also is able to spend as much time as she wants with her kids – both of whom are now following in their mother's successful footsteps by pursuing their own dreams.
Yet despite spending more time with her family, Cindy tells us that 2011 was one of her best years ever, career-wise. And in today's issue of The Writer's Life, she reveals a choice she made that transformed her writing business, and ultimately led to her success.
But before I hand it over to Cindy …
Remember today is the last day to submit your 2012 goal and be in the running for the very last iPad in our Holiday Giveaway. Don't miss out!
Cindy Cyr: Personal Development/Info-Marketing Marketing Strategist and Copywriter Specializing in Email and Web Writing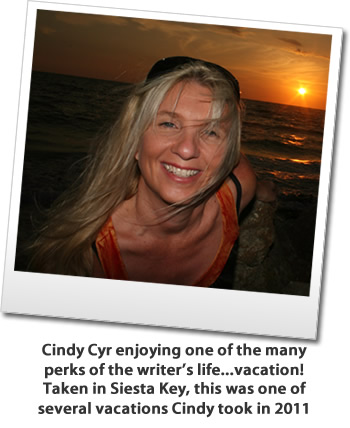 What was the biggest highlight of your writing career this year?
Landing Glazer-Kennedy Insider's Circle as a client. To get to work for a client whom I've admired and love their products is a dream come true.
Landing GKIC made me feel like I've finally tipped the scale in favor of feeling like I'm going to succeed in the "work accomplishment category" of my life. If you've ever heard the John Mayer song, "Something's Missing", it's been like that for me. Landing GKIC sort of filled that "missing thing" for me.
What contributed most to it?
This was a referral from a client. So I would have to say the biggest factor was continuing to improve my skills in order to constantly give clients something better.
About a year and a half ago, I attended Dan Kennedy's "Business of Copywriting Academy". While there I met a Dan Kennedy champion and Glazer Kennedy Insider's Circle member.
He mentioned he was looking for a copywriter, so after the event I followed up and we exchanged emails a few times. Nothing really happened until about eight months later when I ran into him again at another event. Again we started talking about what he was doing. I offered some suggestions and we both got excited.
This time I followed up more aggressively and ended up working with him on a project. I've stayed in touch since that project. He's sent me several referrals, GKIC being one of them.
What inspires you most these days?
My kids. I constantly think about the role model I am for them. If I'm not continuing to set new goals and putting forth effort to reach them, how can I expect them to?
Plus, watching them reach their goals inspires me to believe I can reach mine. Each year we sit down as a family and write out individual goals for the year, then share them with each other.
One of my oldest son's goals this year was to make the varsity basketball team and start looking at colleges. My youngest son wanted to get the lead role in a play and professionally record his first songs. I wanted to add 4-5 contracted clients for more consistent income and contribute a minimum of 5% of my income to charity.
I can happily say we've all reached these goals (and more). It was inspiring to watch how focused my boys were and the effort they put in to reach their goals.
What has living the writer's life meant to you this year?
It's meant choosing the clients I want to work with, making more money than I ever have in my entire life, and being able to live the life I dream of day in-day out. That means I can sleep in when I want, go for a bike ride in the middle of the day, and go see my kids in every event they participate in (which is a lot!).
For example, this year, I was able to go to my oldest son's basketball games . I would have never been able to attend if I was still employed by someone else. And at one point he was invited to play up and attend a national basketball tournament. It was very last minute, and I was able to just take off in the middle of the week for a couple of days and go watch him play.
What's your goal for 2012?
My goal for 2012 is to finally implement some of the personal business ideas I have been playing with but have been hesitant (ok, maybe a little scared) to try. This would involve developing new products, setting up a new website, building a new list of clients, and doing all the marketing and writing myself. I don't want to say too much, because I'm still testing out two separate ideas and haven't decided which one I will pursue yet. But I'm getting close!
Knowing what you know now, what advice would you give to someone just starting out?
Decide no matter what, you will succeed and take action every day towards your goal. You really can make six figures doing this!
Pick a niche right away. Don't worry if you'll like it or not, you can always change. HUGE changes happened in my business once I did this—and I waited WAY to long. It makes it sooooo much easier to succeed.
Do one client-getting activity every day.
Balance getting clients with continuing to learn and improve your skills. You don't need to know everything to start writing for clients. Similarly once you get clients, you need to keep learning to grow your business and do the best job possible for your clients.
One AWAI Program you'd recommend people take and why?
Niche Yourself and Thrive. I took way to long to pick a niche. Everyone said to do it, but I was afraid I'd lock myself into something I didn't enjoy. Pam Foster's success and program really helped me. And while some of my clients aren't in my niche, my biggest and best clients are. And I'm now attracting big, well-paying clients to me simply because I finally took the leap. Really, I know had it not been for Niche Yourself and Thrive, I'd still be niche-less and not making the money I am today.

How to Choose Your Writing Niche: Your Step-by-Step Blueprint for Finding a Niche that's Right for You
Need to pick a niche for your freelance business? Learn how to do it once and for all, and watch your business grow. Learn More »

Published: December 15, 2011