Living in a Near Constant State of Inspiration

In the "olden days" before the Internet, if you wanted to make a lot of money as a writer you had three main options: Write a best-selling novel, write a blockbuster screenplay, or become a direct-response sales letter copywriter.
Fortunately, that's all changed. The Internet has literally blown the doors wide open for people who enjoy writing, and want to make a living doing what they love.
These days, people who never thought they'd be in a position to call themselves "professional writers," are now bringing in six-figure incomes working from anywhere in the world they choose to be.
And it's all thanks to the ever increasing number of writing opportunities the web makes available, and the thousands of business owners who are willing to pay writers a lot of money to do this writing for them.
Heather Robson is one of those writers. And in just a minute I'll hand it over to her for our last and final issue of The Writer's Life Special Holiday Series.
Over the past two weeks, we've heard from a variety of people, each living very different versions of the writer's life.
Yet despite the variety, there were definitely some common themes …
The desire to spend more time with family leads many people to the flexibility of a freelance career.
Doing good work does more than make your valuable to your clients. It helps you "attract" new clients through referrals.
Being a successful freelancer can take persistence – but it pays off big time in the end.
And, of course, you don't have to go it alone. The AWAI community is full of people just like you, who are willing and ready to help, encourage, and support you every step of the way.
If you missed any, or would like to continue meeting more successful writers, I invite you to check out the AWAI blog where others will be sharing their stories this month.
I also want to congratulate all the AWAI members who submitted their goals to our "Commit to Achieving Your Goals Give-Away."
Remember, when you write down a goal and then declare it publicly … your chances of achieving it skyrocket.
It's the most important step you can take on your road to success.
Heather Robson: Web Writer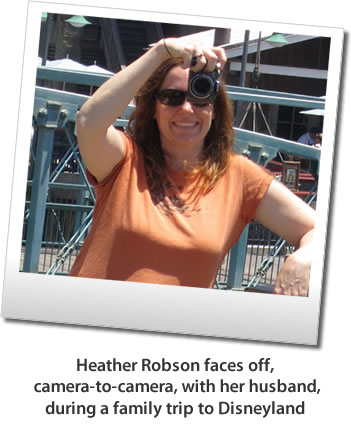 What was the biggest highlight of your writing career this year?
This year I had the good fortune to be able to attend both Wealthy Web Writer's Web Intensive in San Diego and the AWAI Bootcamp in Delray Beach, Florida. Between the two I gained a great deal of information, knowledge, and inspiration. I'm ready to take my writing career to an even higher tier. Plus, at the Web Intensive I had the privilege of meeting Mark Everett Johnson. I've since had the opportunity to work with him on a number of projects. It's been very exciting.
What contributed most to it?
Getting out to live events, meeting people face-to-face, and chatting with other writers. Things happen when you are in the same room with people that just don't happen over email and social media.
That isn't to say you can't be a successful freelance writer using only the Internet and phone for communication. You're missing a big opportunity if you pass up the chance to rub shoulders either with other writers or with people from your target industry.
What inspires you most these days?
I honestly live in a near-constant state of inspiration. I'm inspired by nature, by family and friends, by the craziness of the world, and especially by fellow writers—both those I've met and those I've only read.
What has living the writer's life meant to you this year?
The writer's life gives me the opportunity to be so close and so involved with my family. I have active children and being self-employed means I can take them to classes and events and I can be there whenever they need me. Plus, we can do spur-of-the-moment family outings.
The writer's life has also given me the opportunity to pursue a fiction-writing career (still in its budding stages). I've completed two novels in the past two years, and this year began a third. I'm using what I've learned about persuasive writing and online marketing to decide how I'm going to get these books in front of the right audience.
What's your goal for 2012?
I plan to (finally) focus on a niche and specialty. If all goes well, I should be earning a higher income and working fewer hours by the year's end.
Knowing what you know now, what advice would you give to someone just starting out?
My advice always boils down to one thing: persistence. You'll fall down. You'll fail. You'll be set back.
The people who succeed are the ones who keep pushing forward in the face of disappointment. I've met very few people who've had a bump-free path to success.
Honestly, the bumps will make you a better writer in the end. Just stick with it. Be patient. Eventually, it does pay off. Also, one you've succeeded, you'll need persistence to keep succeeding. Freelance writing of any kind is not a career where you can rest on your laurels for long.
One AWAI Program you'd recommend people take and why?
Admittedly I'm biased, but I love Wealthy Web Writer (editor's note: Heather is managing editor of WWW).
It's been an ongoing pleasure to work with, learn from, and socialize with other web writers on the site. It's a growing resource that every aspiring and established web writer should have access to.
In just a few clicks you can find information on tools to make your more productive, how to write better SEO copy, or how to write more persuasively for the web. There are articles on email marketing, video marketing, writing blogs, marketing yourself, creating money-making websites, writing for PPC campaigns and so much more.
Plus, there are live events, job opportunities, and a bunch of fun and supportive people to chat with on the forum. I think it's a great resource for anyone writing for (or planning to write for) the web.

Wealthy Web Writer: The Writer's Roadmap to Making Money Online
With millions of websites and counting, the need for qualified web writers has never been higher. Get access to a growing resource designed to help web writers succeed. Learn More »

Published: December 16, 2011