The 3-Part Game to Writing Success

A tropical getaway with your new friend – who happens to be a billionaire …
Cross-country road trips with nine children (and another on the way!) …
And a never-quit, always-positive attitude.
We're on Day 5 of The Writer's Life Success Series. And today, I'm pleased to bring you a familiar name to many AWAI members, Joshua Boswell.
As winner of the 2007 $10K Challenge … master of ceremonies and popular speaker at Bootcamp and the Web Copywriting Intensive … expert contributor to the Professional Writers' Alliance, Wealthy Web Writer, and Circle of Success …
It's safe to say Joshua has helped a generation of new copywriters find their footing in this industry.
He has a passion for copywriting … and helping others achieve the writer's life. And knowing that success doesn't come overnight or without effort, he has figured out a three-part "process" for achieving success that you can follow, no matter your starting point.
But I'll let him tell you all about it …
Joshua T Boswell: Web Writer, Copywriter, and Schizophrenic Entrepreneur
"I'm still debating what I'll be when I grow up …"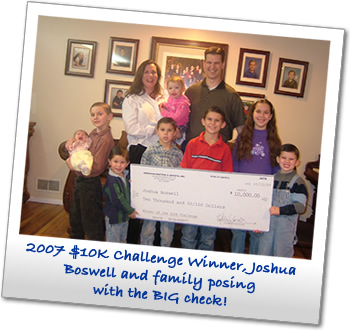 What was the biggest highlight of your writing career this year?
About 18 months ago, I had a great desire to meet this fellow who is a billionaire. I wanted to interview him, and he has a couple of companies that I really wanted to write for.
I finally got in touch with his "handler" and was emphatically told that I would NEVER get a chance to interview him or meet with him. I really don't like being told "No." (If you know me, you know I'm laughing at myself about that one.)
I will spare you the year-long details of how I made this happen, but last September, my wife Margie and I were invited to his home to have dinner with him and his wife at their kitchen table. We've been invited to spend a week on an exotic tropical island with them. We are swapping parenting and business ideas and stories. And we consider them dear friends today.
As this man and I got to be good friends, we started talking about copywriting as well. For the past five years or so, he has been looking for a copywriter that "gets" his pet company and can write in a way that will reach a very unique audience. Until I started writing for him, he'd failed in his search. Now I am heading up and organizing virtually every scrap of sales and marketing copy for the company. It is a cause that I'm passionate about and one that I'm very excited to be a part of.
The other thing that I'm VERY proud of is a situation with Nightingale-Conant. For a number of years, Gary Chappell, the CEO, has been working on a very special project. Essentially, he has taken over 30 years of the best principles, ideas, and content from the very best Nightingale-Conant speakers and compiled it into a single audio program and workshop. It is unlike anything I've seen before. Truly a personal development masterpiece.
Gary personally reached out to me and asked if I would write the copy for it. I did, and it is performing VERY well … much to his and my delight!
Now he has asked me to work with Tony Robbins and write a promotion for one of his products. It is an honor to be the voice for great change agents like Gary and Tony.
What contributed most to it?
My understanding of marketing, copywriting, a dash of charisma, some sneaky mind games, and my rugged good looks (Margie made me say that last thing … hehe).
What inspires you most these days?
My inspiration today is what it has always been – my family. As of this writing, my amazing wife is expecting our 10th child. I work hard on my copywriting and other ventures so that I can spend quality and quantity time with my wife and children. We love traveling together. Doing service for people. Engaging in lots of church service and work. Doing homeschooling together. Working on businesses together. And many, many other fun activities.
I'm inspired by being able to be loved by them and inspire them to become the incredible human beings that are inside of them. I love doing all I can so my wife and children can take flight and develop the greatness that is who they are at the core. Nothing gives me greater satisfaction or joy.
What has living the writer's life meant to you this year?
This year, we took a 16-day vacation, touring the southern states. We visited six LDS temples, toured old southern mansions and plantations, helped an everyday cotton farmer harvest his cotton in the middle of Georgia, visited a couple of amusement parks – including the Huntsville, AL, Space and Rocket Center – chartered a private boat and went snorkeling down in the Florida Keys, spent a day touring the mangrove forests and swamps hunting down alligators, dolphins, and gigantic spiders, and relaxed, talked, learned, experienced, and built incredible memories together.
My income grew while on the trip. I picked up a couple of more clients. I did a very little writing and spoke at AWAI's Bootcamp. It was magical and wonderful.
In February, I think we're going to do something similar, only this time through the southwest states and southern California.
When you consider that we could afford doing this with nine children, it's a wonder we have any money or sanity left! But actually, we have both in spades and mountains of joy to go with it.
All thanks to copywriting!
Knowing what you know now, what advice would you give to someone just starting out?
Success in freelance writing is a three-part game. First and foremost, you MUST discover and master the ability to market yourself. If you can't do that … game over.
Second, you have to develop some great writing skills. Hey, if you get the clients and never write decent copy, it's game over.
Third, you really need to stop sabotaging your own personal success. Get out of your own way and let the success flow. You deserve it, but you're likely going to have to slay some mental demons to believe you deserve it.
If you put those three elements into place, then there is no limit to what you can do!
One AWAI program you'd recommend people take and why?
The Accelerated Program for Six-Figure Copywriting. How many of you could work on a car without knowing the basics of how an engine works? I mean, what if you knew nothing about combustion, air, fuel, spark, compression, electricity, valves, alternators, brakes, and all that other stuff?
To get it right, you MUST understand how the car's systems work, and you MUST have a guide to show you the tricks and the hidden secrets.
To me, all copywriting … and I'm talking about web writing, grant writing, technical writing, B2B writing … everything … is done for one basic purpose: to persuade human beings to take action. Our job is to move people and motivate them to do something different. Because of this, I recommend AWAI's Accelerated Program for Six-Figure Copywriting. This is the program that teaches you the fundamental secrets behind persuasion – the fine art of moving people to take action.
No matter what the conversation, every time someone asks me, "Where should I begin to get into copywriting?" I tell them, "Master the Accelerated Program for Six-Figure Copywriting." Using the writing principles in there will let you successfully write for any industry in any age. It's timeless because people fundamentally don't change.

The Accelerated Program for Six-Figure Copywriting
Turn the ability to write a simple sales letter into a successful freelance career. Find out how you can make a six-figure income working from anywhere you want as a direct response copywriter. Learn More »

Published: December 9, 2011