Your Life Could Change Forever

On February 29th at around 3:30 p.m. – your life could change forever.
That's about the time you and a small handful of AWAI members could be wrapping up a once-in-a-lifetime event that will once and for all establish you as a working web copy specialist …
… with specific web-writing knowledge that 99% of today's working copywriters don't have.
And when you turn on your computer that following Monday morning, you'll look at the web through an entirely new set of eyes …
Because not only will you recognize the enormous money-making opportunity online marketing holds in store for you as a copywriter – you'll also know instantly what needs to be done to make any online marketing campaign a huge success.
Plus, you'll have the confidence and a step-by-step plan you can follow to market your skills immediately … to clients who are willing to pay you the high fees you deserve.
In fact, I'll be one of your clients.
More on that – and how we're going to transform you into bona fide working web copy specialist – in a moment.
But first, I want you to understand the sheer scope of the opportunity before you …
I've been in marketing for over 15 years now – the past eight years with AWAI. And I can tell you without reservation: the direct-response industry has changed. The way people buy has changed.
Forever.
Not too many years ago, people were reluctant to buy online. Now they prefer it. Which is why more than 95% of AWAI's sales come from online efforts – and why I'm looking for more and more skilled online copywriters every day.
But here's the thing …
Successful web marketing is about more than writing a great sales letter. It's about writing landing pages that keep people on your client's site and make them want to buy …
It's about mastering effective email strategies that get readers to open the email, engage in a conversation, and ultimately take an action …
It's about connecting with your client's buyers and prospects on social media, where they're spending more and more of their time and money every day …
It's about writing a simple video script that effectively communicates your client's USP and delivers a strong sales message in less than 5 minutes …
It's about injecting the proper words and phrases into your copy that guarantee the highest possible search engine rankings …
… all the things we're going to master over these three intensive days in February, so come that Monday morning, you'll be able to walk up to any client and say with confidence, "Yes, I know what we need to do to transform your online marketing."
Believe me, it'll be music to that marketer's ears.
And there'll be no shortage of eager clients …
A recent report by eMarketer predicts e-commerce will grow 13.7% this year and estimates that the total U.S. e-commerce sales in 2015 will reach $269.8 billion …
And according to a recent survey conducted by Borrell Associates, small businesses (like the ones in your local area) plan to increase their online advertising by 29 percent this year, compared to only a 4.5 percent increase on their offline ad budgets.
And along with being able to fill their demand for web copy that converts, I'm going to personally show you how to find them.
LAST CHANCE:

Get Paid $800 to $2,000 to Write E-newsletters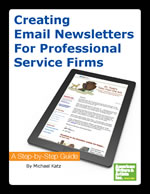 It only takes a few weekends to get your freelance writing business up, running, and ready to take on clients.
Click here to get all the skills you need to present yourself as an expert … and get you your first paying client, fast!
By this time next month, you could have a full schedule of loyal retainer clients paying you $800 to $2,000 every month.
Hurry! Discounted Enrollment Ends at Midnight.
Published: December 9, 2011