How to Quickly Become the Best in Your Field

Gary Bencivenga – arguably the world's greatest living copywriter – once said that if you can improve yourself just 1% per week, you can quickly become among the best in your field.
It's a piece of advice copywriter Roy Furr took to heart, and over the 7 years of his writing career, has helped him consistently grow his income year after year.
And today, Roy reveals just how big this past year was for him and what you can do to follow in his footsteps.
Roy Furr: Direct-Response Consultant and Copywriter to Publishers in the Financial and Marketing Industries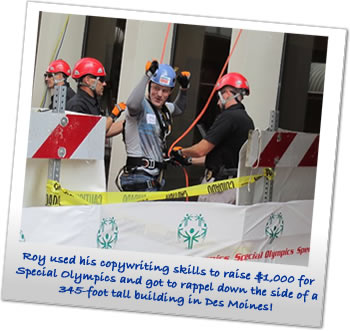 What was the biggest highlight of your writing career this year?
I wrote my first million-dollar promotion. It was a sales letter for a high-end membership service (members paid thousands per year to join) for one of my clients.
My promotion broke the million-dollar mark the first time it was used. And it was sent out again and has brought in somewhere just short of half a million dollars.
Not only was this a big boost to memberships, revenue, and profits for the company, it also – I believe – broke sales records for a single promotion.
I'm receiving a generous royalty, and it helped me lock in regular work with the client.
What contributed most to it?
Writing this has been a natural progression of seven years of developing myself as a direct-response copywriter and marketing strategist.
Yes, there were some very specific tools that helped – like the use of Michael Masterson's lead types spectrum that he presented at Bootcamp and a cheat sheet I got from Clayton Makepeace when he came to Bootcamp a couple of years ago. But it's certainly more than that.
Long ago, I adopted the attitude that I always had to be learning. And for the past seven years, I've done that – focused on learning and improving myself just a little bit every week. And it's amazing how fast this learning compounds on itself.
Recently, I was told by my client that I'm the only person on their marketing team for whom coming up with new and innovative marketing ideas seems to come easy. That's not because I'm naturally creative – it's because I'm always looking at what works for other people and thinking about how I can apply it. After having done this for seven years, I have a lot of history of adapting proven ideas to what I'm doing today.
The result is breaking clients' sales records and generating large amounts of sales and profits. For one project, that may mean crossing the $100,000 threshold. For another, $1 million. And someday, if I keep learning and applying myself, I certainly hope to cross the $10 and $100 million thresholds with single promotions. Other people have done it – there's no reason I can't simply by following in their footsteps.
What inspires you most these days?
Money. But not what it is. What it means. I find it's dangerous to be attached to the idea of having money. If you're attached to money, you make dumb decisions.
But what money buys you – freedom of time and place in particular – allows you to live a fulfilled life. And by having enough money to ensure your comfort for years to come (not a lavish lifestyle … comfort), you are mentally and emotionally freed from worries associated with money.
Right now, I'm focused on learning how to make the most money with the least work. That's why I'm naturally attracted to writing big winning direct-response promotions that generate a lot of sales for my clients and pay me a royalty.
That means at some point, sooner rather than later, I'm going to be able to spend less time on work and more on things that are especially important to me. And that includes things like family, doing projects around the house, making music, traveling, and anything else that time and money constraints make it hard to do right now.
What has living the writer's life meant to you this year?
For the last couple of years, we've had to move around the country while my wife finishes her Ph.D. Jumping from job to job as we moved would have been near impossible, and our finances would have been painfully tight.
Instead, I simply told clients I was taking some time off to move, and when we got to our new home, I picked up right where I left off. And my income has been increasing rapidly, even with moves around the country.
Not only that, I'm also able to stop work just about every day around 3 p.m. and spend time with my wife and two sons. This is priceless time I didn't have in a full-time job.
Knowing what you know now, what advice would you give to someone just starting out?
Take every opportunity you can to use what you're learning about writing that works to generate sales. Create your own side projects. Write multiple letters to test against each other. Do work cheap simply to build experience.
Practice, practice, practice.
Reading and learning is critical. But you won't really learn what you read, see, or hear until you apply it.
So the best thing you can do is to always be applying what you learn.
And second to that, always be learning. Gary Bencivenga – arguably the world's greatest living copywriter – taught me once that if you improve yourself just 1% per week, you can quickly become among the best in your field.
And it's exponential – your 1% improvement compounds each week, until within just a few years, you're off-the-charts good at what you do. Most people won't do this, but those who do are absolute leaders in their field.
Your favorite writing tools or gadgets?
I love my laptop. I can take it anywhere and write – a benefit I take full advantage of at least once per week! It's completely worth splurging on a good, fast laptop. (And as a business expense, it can be a tax write-off – consult your tax advisor!)
One AWAI program you'd recommend people take and why?
I'd take the Masters Program for Six-Figure Copywriting. It definitely had the biggest impact on my copywriting. The high-level strategies covered in that program are what separate the wheat from the chaff of the copywriting world.
These are Michael Masterson's, Bill Bonner's, and their friends' and associates' deepest, most powerful secrets learned from building one of the largest direct-response publishing businesses in the world.
If you're serious about making a good living from becoming a direct-response copywriter, the knowledge you'll gain from the Masters program is essential.
Three years from now, you can look back at what you've done over these three years and find yourself in one of two places:
1. You still have the dream, but you're not living it. You're not quite sure what you've done because you've been thinking a lot about becoming a better copywriter and living the writer's life. But apparently, thinking, dreaming, hoping, and the occasional action step aren't quite getting you there.
OR …
2. "Where did those three years go, and how did I get so far so fast?" That's where I'm at now and where you can be. It's simply a result of jumping in, fully committing, doing what you need to do, and getting the resources you need to get to achieve the success you want.

The Masters Program for Six-Figure Copywriting
Advance into the ranks of A-level copywriters with copywriting secrets taught directly from the copywriting legends themselves. Learn More »

Published: December 8, 2011