The Freedom to Disconnect

Imagine telling your employer you would rather not check email for the next several days …
It's a nice idea … but one that your boss may not be too thrilled about. In fact, his response may be that he'd rather you not bother coming in the next day.
For father of seven, Steve Coombes, the freedom to disconnect from his inbox is an important part of the writer's life.
During a recent road trip from Tampa to New Hampshire after Thanksgiving … Steve didn't check his email once.
Yet his writing business remained just fine.
Steve's made an effort to structure his freelance career and life this way – and it's paid off big time as you'll find out.
Of course, nobody's perfect. And Steve admits to a big oversight he made in his freelance career. But he's got a plan for fixing it, which he'll share with you today.
Steve Coombes: Natural Health & Preparedness Copywriter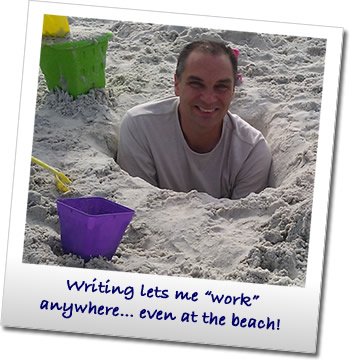 What was the biggest highlight of your writing career this year?
After years of writing sales letters, web pages, emails, and articles … recently I wrote my first video script. It was my first opportunity and it was a friendly competition with another copywriter I respect who had written several other videos for this client. Not only was my script accepted and turned into a professional 2 ½ minute intro video for my client's website – almost verbatim right down to the cues and actress selected – they liked it so much they used most of the video script copy for the home page copy on their new website. Major win!
What inspires you most these days?
My family. As a husband and father of seven, my biggest motivation for becoming a better writer is to provide a better life for my family and have more time to spend with them. Writing makes this possible.
Copywriting has given me the freedom to take my family wherever we choose to go, when we choose to be there. This Thanksgiving we visited family in Florida – for three weeks. While I brought along writing work to do while there, being a writer allowed me to choose how long to stay. It also allowed me to pick the absolute best days to take off so my kids could drop me in a hole we dug at the beach. J
What has living the writer's life meant to you this year?
If you don't mind, will pass answering this one as it really needs more detail which I expect I'll share in next month's Professional Writers' Alliance interview with Katie.
What's your goal for 2012?
I'm incredibly excited about the coming year. 2011 has proven to be a transitional year for me. Major business decisions were made during and just prior to this year's Bootcamp, including pursuit of a brand new niche, diversification of my client base, and increased project selectiveness. This should result in a significant increase in both income and free time over the coming year.
Earlier this year I found myself working TOO hard. Not at finding clients, but merely at keeping up with all the work I had on my plate. Plus, with much of my work coming from a single client, I found writing less enjoyable and family time suffering.
That's when I knew a change had to be made. In the past couple of months I have restructured my relationship with my main client to be more lucrative and flexible. I have jumped with both feet into an exciting new and growing niche (emergency preparedness) that I love. And by bringing on new clients I am giving my writing business an extra measure of stability.
One AWAI Program you'd recommend people take and why?
Amazingly I've built a solid copywriting business over the past few years without ever completing my own website. In fact, I regularly tell other copywriters I have the world's best coming soon page, now almost three years old! But that's not going to cut it anymore as I move into a focused niche. That's why I encourage anyone who hasn't knuckled down and finished their own website to take the same course I am taking now to ensure my new preparedness niche website is online THIS year: Build Your Own Freelance Website in Four Days!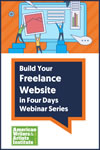 Build Your Freelance Website in Four Days
No matter what niche you're in, if you're a freelancer, you must have a website that showcases what you do. You can launch your own professional website in just 4 days. Experts show you every step. Learn More »

Published: December 14, 2011