The Writer's Life Special Holiday Series

For the next two weeks, we've invited 10 different people who are living very different versions of the writer's life to open up and let you in on the secrets that truly helped them make it in this business.
They'll also share their biggest accomplishments, what you can learn from their early career missteps, and how the writer's life has allowed them to spend their time doing what they want to do, 24/7, even when they're "working."
And hopefully by this time next year, you'll be sharing your own success story with us.
We'll kick things off today with web copywriter Steve Roller. This year marks his second full year as a freelancer. And while his income, career satisfaction, achievements, and perks (he's spent a ton of time overseas) are already very impressive, Steve is looking for even more success in 2012 …
Steve Roller: The "Rugged Individualist"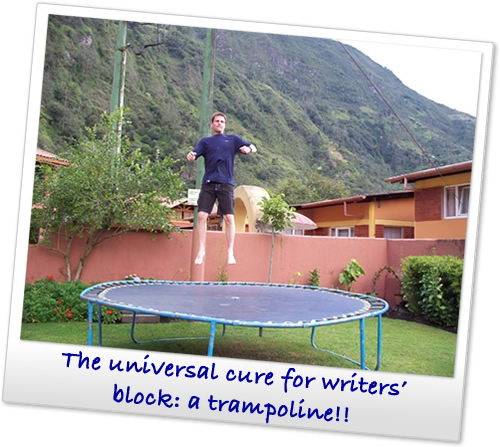 What was the biggest highlight of your writing career this year?
Creating an entire campaign – landing page, email autoresponders, and online video script – for a fitness marketing client that doubled their previous sales. The client was thrilled, and their professional opinion of me went way up. I was pretty stoked, too! It was one of my better projects so far.
The interesting thing is, I never met or even talked to the client – we did everything through email and a project site called Basecamp. And I wrote it all while I was on vacation in Ecuador!
And I just got a call from the business manager last week! She asked me if I could provide them with future marketing ideas (I had suggested the autoresponder series) and also if I'd be interested in taking over some of her duties, like taking over the overall management of future campaigns to allow her to work with technical subcontractors.
We haven't worked out the financial details yet, but it looks promising. My goal is to help them grow, and in the process, it will pay off for me, too.
What inspires you most these days?
I'm inspired by working on projects in my chosen niches – fitness, travel, and "lifestyle." If I'm fired up about the product or service, it's so much easier to write good copy.
I'm also inspired by reading about other AWAI members who are a few years ahead of me. It gives me confidence that if I follow their suggestions, I have a good shot at replicating their success. Mindy Tyson McHorse and Roy Furr are two copywriters whom I respect and would like to pattern myself after.
What has living the writer's life meant to you this year?
More than anything, time, freedom, and the ability to work from wherever I choose. It hit me at Thanksgiving when I got together with 24 family members.
A lot of them are very successful, but I had more vacation and time with my family than any of them. I'm not tied down with a brick-and-mortar business or the rigid schedule of a government or corporate employer.
There's a profound sense of achievement from being a "rugged individualist," and I can tell from holiday conversations that my wealthier siblings are not only curious about my lifestyle, but a tad bit envious as well.
Knowing what you know now, what advice would you give to someone just starting out?
Dive into it with every ounce of energy you can muster! Don't hold back on your effort because you're not confident in your skills.
I took a slower approach than necessary and tried to match projects to my perceived level of ability. The fact is, the only way to get off to a fast start is to stretch yourself. Go after projects that intimidate you. Challenge yourself. And write a lot every day, either for yourself, on spec, or for clients. Practice is the best way to improve your skills, and it boosts your productivity.
One AWAI program you'd recommend people take and why:
I'm a huge fan of Nick Usborne. I love his teaching style and his writing style. And he's a go-to expert when it comes to writing for websites, emails, online sales pages, and other online copy. No matter what you decide on for a niche for your freelance business, you'll need to get good at writing for the web – it's the biggest growth area for freelance writers, and there are plenty of projects, even for new writers.
Nick's course, Copywriting 2.0: Your Complete Guide to Writing Web Copy that Converts will be your constant desk-side companion. Learn this stuff now, and you'll accelerate your success and shorten your learning curve.
What's your all-time favorite movie and why?
Walk the Line, a biographical drama about Johnny Cash, is one of my favorite movies. It's a tale of heartache, pain, and destruction. But it's also a story of personal transformation, second chances, and ultimately, redemption. Even if you're not a country music fan (I'm not), Walk the Line is a must-see for any creative spirit who's struggled with their own demons and hung on to experience joy.
Any favorite writing tools or gadgets?
I'm old school.
I have an iPad, a laptop and a desktop, and all the cool apps and programs available to writers. But my favorite writing tool is an iconic Montblanc Meisterstück ballpoint pen. I got it in 1990 as a college graduation gift to myself, and it reminds me that timeless principles endure: the power of the written word, quality craftsmanship, and classic design.
I'd like to think I incorporate elements of those things into my writing, and when I need a burst of inspiration, I'll shut off my monitor and break into longhand writing style with my favorite pen.

The Professional Writers' Alliance
At last, a professional organization that caters to the needs of direct-response industry writers. Find out how membership can change the course of your career. Learn More »

Published: December 5, 2011