Announcing …


Winners of the Build Your Freelance Website by the New Year Challenge


We had an incredible number of high-quality, professional websites submitted for the Build Your Freelance Website by the New Year Challenge.

But I'm happy to finally announce the winners …

When reviewing the websites, each judge was asked to put on their "client hat" and submit votes for their 6 top websites based on message, copy, usability and professional appearance.

Our grand-prize winner was unanimous!

This winner will receive FREE admission to the 2012 Web Copywriting Intensive this coming February in beautiful San Diego, California, PLUS $1,000 in cash to put towards airfare, accommodations, and spending money.

There, the winner will get to work with online copywriting expert, Nick Usborne, SEO copywriting pioneer, Heather Lloyd-Martin, the King of Autoresponders, Jay White, and other, world-class web specialists to:
Learn the strategies and techniques for writing blockbuster web copy;
Master the secrets behind SEO, social media, and online videos;
Write quick, powerful emails that sell;
Discover the tools to dramatically improve almost any web page, email, or e-newsletter; and
Get an opportunity to land actual, paid web-writing jobs from AWAI and other marketers.
All in all, the Grand Prize is worth $5,995 in value!
And with that, I'm proud to announce our grand prize winner …
Kurt Schwacke!
"I found the course to be quite complete and geared toward the non-techy. It is a step-by-step approach that ensures success and provides encouragement along the way. The hardest part was getting the content written."
You can check out his website here: http://klscopywriting.com
Congratulations Kurt!
And because there were so many great runner-ups, we decided to choose six additional winners instead of five.
They'll each receive free copies of the 2012 Web Intensive Homestudy program (including recordings of all the presentations, assignments, and all the support materials), along with $250 cash you can use to further invest in your business, or simply use to celebrate your success!
And the winners are …
Loraine Degraff: http://writingthatspeaks.com
"AWAI has taught me a great deal. I was struggling with building my own website for some time. I finally decided to hire a designer because the trial and error method was too time consuming. When I learned about the Webinar series, I went back to building myself. I am enjoying the experience. AWAI makes it easy to understand the process and makes it fun, as well." - Loraine
Catherine Leonard: http://singleapex.com
"The training series was great. It was just the motivator I needed to finally get a website up and running, and knowing that I did it myself was very satisfying. Thanks!" - Catherine
Jim Wright: http://www.jamesdavidwright.com
"In a word? Amazing. I really enjoyed both the webinar series and the process. The webinar series was very practical, and also included plenty of bonus material, great support and encouragement, and best of all, Rebecca's coaching and enthusiasm! The best thing I can say? It works! My site is up. Through the webinar series, I was able to do it myself, which not only gave me a sense of accomplishment, but gave me confidence as well. Thank you!" - Jim
Margie King: http://www.holisticghost.com
"It feels great to have learned WordPress in just days. I had been completely intimidated by the thought of tackling a WordPress website but with Rebecca's easy to follow instructions and encouragement it was so simple. Rebecca's website review was so valuable and here I am with a professional looking website and my freelance business ready to go!" - Margie
Gordon Foreman: http://www.gordonforeman.com
"Not only is my website up and running, but I look at it and marvel at how good it is, thanks to the AWAI program and crew, and their insistence on "Do it. Do it Right. Do it right NOW." - Gordon
And last, but certainly not least …
Linda Steinmuller: http://www.lindasteinmuller.com
Congratulations to all our winners!
And congratulations to everyone who entered! Everyone that submitted their website before the New Year automatically received a $100 credit to put towards any AWAI product, service or event of their choice.
I was truly blown away by the number of high-quality, professional websites from this group, and every single one of the judges agreed that choosing only 7 was a very tough assignment.
If you're looking to get your own freelance website up and running quickly, I urge you to check out my program, Build Your Freelance Website in Four Days Webinar Series, and check it off your to-do list once and for all!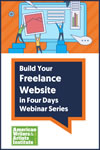 Build Your Freelance Website in Four Days
No matter what niche you're in, if you're a freelancer, you must have a website that showcases what you do. You can launch your own professional website in just 4 days. Experts show you every step. Learn More »

Published: January 24, 2012