6 Crucial Tasks Your Compelling Lead Must Accomplish

"The headline gets attention. The lead either forges an instant connection with the reader – or the package fails." – Bob Bly
As an AWAI member, you're making crucial investments.
You're investing time. You're investing money. And most of all, you're investing your heart's faith in your quest for a better future.
There's one area of copywriting where much of the success of those investments depends. Get it right, and you rise to become an A-level copywriter.
Get it wrong, and you'll struggle to be a C-level copywriter.
I'm talking about your lead. Here's why your lead's so important.
Let's say you write the most sensational sales letter ever written. You've figured out everything perfectly – the offer, the pitch, the language. You've even decided on the perfect typeface.
You put it in the mail but one thing's missing. A compelling lead. Because of that missing piece, your prospect never gets beyond the first few words before tossing it away.
This is why AWAI and many potential clients (such as those at Job Fair) ask you to submit "only" the headline and lead before you write an entire letter.
The importance of creating a compelling lead is such a big and critical topic that it can't be covered in one article or even two. So, I'll be returning to this essential topic many times.
But for today, I'm going to talk to you about the six crucial tasks a lead must accomplish.
Let me start with a question I frequently get from AWAI members …
What exactly is the lead?
During Bootcamp 2007, I attended a great session on leads by Jen Stevens and John Forde. (Both masters of writing powerful leads.) Right after the session, I had several attendees ask me to clear up some confusion.
"I thought they were going to talk about leads," the gist of their comments went. "But they also talked about headlines. I'm confused."
Many copywriters think the lead is only that part of your letter that comes right after Dear Friend, (the salutation). A lead really contains both the headline and the part after the salutation. They're inseparable if done correctly.
So, calling the lead "the part right after the salutation" ignores its bigger purpose, which brings us to the second question I frequently get …
What's a lead supposed to do? (It's about more than just keeping your prospect moving forward … )
A while ago, I heard a well-known copywriter give a superficial explanation of headlines and leads.
"The job of the headline," he said, "is to get your prospect to read the first sentence of your letter. The job of that first sentence is to get him to read the second sentence. And the job of the second sentence …" And so on.
Not a bad description if you've got to summarize in 30 seconds. But, it falls way short.
A successful, compelling lead has six vital tasks it must accomplish. Your lead must …
1. Build excitement
Your headline has already stirred up excitement. So, from the get-go, your lead (the part after the salutation) must build on that excitement. You want your prospect to feel subconsciously pushed forward to the end of the letter.
2. Establish the tone of your letter
When your prospect first starts reading your letter, he hears a voice in his head – the voice of the person who's supposed to have signed the letter. That's your letter's tone.
This tone changes according to the type of product, the signer, the signer's personality, and the emotion you're trying to stir.
For example, if your signer is an "old country doctor" upset about ineffective modern medicine, he'd have one tone. If the signer's an authority on stock options, he'd speak to your prospect with another tone.
Your lead must establish this tone in the first sentence after the salutation. If it doesn't, the writing will be bumpy and unconvincing.
3. Build rapport with your prospect
You walk into a store. The salesperson approaches you and immediately launches into a sales pitch. Compare that to having a salesperson who introduces himself and shakes your hand first.
You have a better feeling about the second salesperson. He tried to build rapport with you. Your lead must do this as well.
Don't get me wrong. You do not want to waste time in your lead. But, the words you choose must connect with your prospect in an intimate way. Make him feel you're more than just a salesman.
4. Earn your prospect's trust
Regardless of what you're asking your prospect to do – buy, sign up, support your cause – you won't convince him if he doesn't believe you and believe in you.
This is a critically important task of your lead. Right from the beginning, your lead has to give your prospect reasons to believe you.
5. Start fleshing out the compelling idea you've introduced in the headline
I mentioned earlier that you'll lose your prospect's interest if you don't connect the idea in your headline with your lead. But, your lead must do more than simply connect with that idea. It has to build on it and make it feel real to your prospect.
6. Connect the right type of lead with the right type of prospect
Not all leads are alike. What you write – how you approach your lead and what type of lead you use – depends on how much your prospect already knows about your product. (Called prospect awareness, which I'll talk about at a later time.)
Let's say you're selling something to a prospect who's bought from you before. He already knows and understands your product's benefits. Would you go into a long discussion about those benefits and try to win him over?
Of course not. This is a lot like attending a cocktail party, approaching a good friend, and introducing yourself like you'd never met.
B- and C-level copywriters don't understand this. They approach leads as if one size fits all. A-level copywriters understand this and use this sixth task to craft leads tailor-made for their prospects.
These six tasks are a lot to accomplish. And remarkably, Master Copywriters are able to do them with a minimum of words using specific strategies.
I'll be talking about these strategies over the next few weeks and months in The Golden Thread. But for now, if you're writing a lead, look at it carefully. Ask yourself, does it …
Build excitement
Establish the tone of the letter
Build rapport with your prospect
Earn your prospect's trust
Start fleshing out the compelling idea in the headline
Use the right type of lead for your prospect's awareness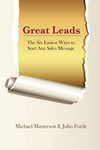 Great Leads: The Six Easiest Ways to Start Any Sales Message
Michael Masterson and John Forde reveal 6 proven lead strategies you can use to write better, strong, more profitable copy. Plus learn 3 ways to increase your own copywriting earnings. Learn More »

Published: January 23, 2012