Introducing …
The New Editor of The Barefoot Writer
Mindy McHorse
AWAI is happy to announce that Mindy McHorse is the new editor of The Barefoot Writer, AWAI's monthly publication dedicated to helping people make a living and achieve the lifestyle they want by writing.
Rebecca Matter, The Barefoot Writer's co-publisher, is thrilled that Mindy has accepted the new role. "Mindy is the perfect choice for this position, as she has built her successful writing career from the ground up and represents everything a Barefoot Writer stands for."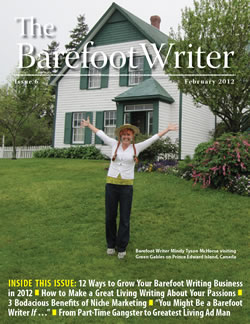 Mindy graces this month's cover – adorned in red braids.
The photo was taken in front of the house that inspired the classic, Anne of Green Gables by L.M. Montgomery — an adored favorite of Mindy's, and one of the books that prompted her desire to be a writer.
Her trip to Green Gables two years ago was symbolic: She'd come full-circle on her life-goals and stood on that hallowed ground as a professional writer. But the joy she gets from life as a writer (and it's significant) doesn't even compare to the joy that defines the rest of her life. Having ample time to spend with her husband and two small children — while pursuing projects she enjoys — is a privilege far too rare in this day and age.
Happily, it's not a rarity in the Barefoot Writing community. That's why this month's issue is all about why your unique interests can be your greatest asset when defining your writing career. Featured writer Pam Foster is one of the best examples you'll find: She tapped a passion of hers and now gets paid (very well) to write about it on a daily basis.
Along with that, you'll learn how to make niche marketing work for you — and why doing so proves that Barefoot Writers don't fit any kind of writer stereotype. Add to that our article on the 12 hottest writing trends for the year, and I think you'll be impressed with the abundance of opportunity in this lifestyle.
Mindy is ready to step into her new role as editor, "I'm delighted to be part of something so powerful and life-changing, Speaking from firsthand experience, the concepts and tactics communicated through The Barefoot Writer have the power to not only launch writing careers, but to give individuals the means to create a truly satisfying lifestyle filled with wealth, abundance, and joy."
Learn more about becoming a member of The Barefoot Writer and start living and achieving the lifestyle you want by writing.

The Barefoot Writer
Discover a lucrative style of writing that will give you as much freedom as you can have while earning a great income at the same time. Learn More »

Published: February 3, 2012