Live: The Barefoot Writer March Issue

Are you ready for your lucky break as a writer?
If that's the case, this month's issue of The Barefoot Writer is exactly what you need.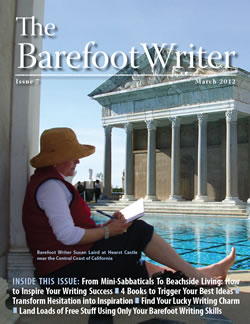 We've dug up the best tips we could find for improving your writing at record speed and building the kind of dream lifestyle you've always craved.
On top of that, you'll discover
How to land all kinds of perks, for FREE, thanks to your Barefoot Writing skills.
Why you don't have to be a "born writer" to carve out a highly lucrative living (and which "non-writer" sold over 100 million copies of her book and is now worth more than $40 million).
An insider's view to life as a travel writer (snake ribs, anyone?).
How good luck charms really do improve your chances of writing success (and how to find your own special good luck charm).
You'll also get to meet Mark Everett Johnson, a fellow who started off like most of us wanting to write for a living and ended up on the fast track to success as an acclaimed copywriter — find out how he did it.
Click here to access your subscription.
Not a subscriber yet? Click here to learn more about becoming a member of The Barefoot Writer and start living the lifestyle you want by writing.

The Barefoot Writer
Discover a lucrative style of writing that will give you as much freedom as you can have while earning a great income at the same time. Learn More »

Published: March 2, 2012