Beginner's Guide To Web Analytics
(And Why You Need Them)

Do web analytics have you scratching your head?
I used to struggle a lot with this concept when I first started writing for the Web, but once I learned the basics, it all came together.
If you've never stopped to learn how to understand web analytics and site traffic, here's why you should consider doing it:
These numbers help you figure out how people are finding your website.
They can tell you which pages on your website are most popular.
They can also tell you which pages confuse or lose your visitors and cause them to leave your site.
To make it as easy as possible for you to become well-versed in analytics and site traffic, I've put together this beginner's brief on key things you need to know.
What Are Web Analytics In The First Place?
If you let it, your website can reveal a ton of valuable information. Learning how to apply web analytics to your site means you can:
Quickly do business research and market research
Determine the effectiveness of different pages within your site
Improve pages that don't perform well
Capitalize on pages that impress your prospects
Nurture relationships with key traffic sources
Measure the results of your outreach efforts (e.g., social media, e-newsletter)
Understand what topics are of most interest to your key visitors
Essentially, web analytics transform your website from a static piece of information to a living tool that guides the success of your web-writing business. They provide a way to collect, measure, and analyze various forms of Internet data so you can optimize your website to perform in the most ideal way possible.
How Is It Even Possible To Track Traffic On The Internet?
There are several different services and programs available these days to measure on-site analytics. Some operate by reading log files (that's where the web server records everything it does). Others use page tagging (that's where a program like JavaScript lets a third-party server know when a page is pulled up by a web browser).
All that really means is that both approaches collect data that gets converted into web traffic reports.
Google Analytics is one of the most common programs used by web writers who want to track their site performance. It's a great tool for beginners, and it's free.
To use it, you simply register for an account and then cut and paste some coding (supplied by Google Analytics) directly into the pages on your site.
With the coding in place, Google Analytics can track what happens on your site.
Below is an example of the Visitors Overview you can access through Google Analytics. The data comes from the one-year-old website of a web writer who has just started to actively use his site for client attraction.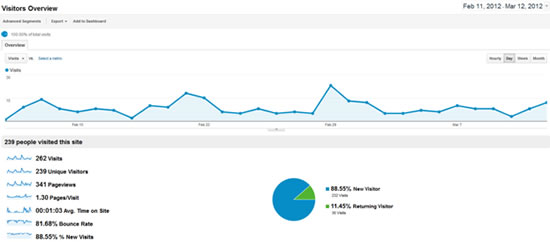 Notice the menu on the right-hand side that gives you the option to view your site visits on an hourly, daily, weekly, or monthly basis. (This example shows daily visits over the course of a month.)
Each time frame has its own merits. For instance, if you actively use social media to promote blog posts to your site, it's interesting to connect something like a post on Twitter to the number of site visitors you attracted right after that post came out. For that, you'd access the hourly report.
Other helpful numbers you get from this Overview include learning how many of your pages a visitor looked at before leaving your website (seen above in Pages/Visit). This tells you whether specific pages are doing a good job of convincing site visitors to learn more about your services and click on internal links.
You can also see the bounce rate, which shows you the percentage of people who only visited one page on your site before leaving. If you have a high bounce rate, it could mean your site is hard to navigate or doesn't make sense to first-time visitors.
Bounce rates can vary quite a bit, but an average rate between 35% and 55% is pretty typical for a well-organized, useful site. Anything over 55%, and especially over 70%, means there's a good chance visitors are finding your site through the search engines but aren't finding what they need on your site. In the example above, the web writer who owns this site might want to tweak his keywords a bit in order to lower his bounce rate. He should also review the site's navigation, looking for ways to improve it. And, he should make sure his overall message is clear to first time visitors. Similarly, a bounce rate below 35% usually means no one is finding your site organically so you need to improve your keywords.
Along with that, the Visitors Overview gives you info regarding the average time a visitor spends within your site as well as a comparison of new visitor numbers versus returning visitors, which leads us to our next example.
Can I Find Out How My Site Visitors Found Me?
Maybe even more important than the number of visitors you get on your site are the traffic sources.
Google Analytics lets you look at everything from your direct traffic sources to the keywords people use to find you to the click patterns visitors follow once they're on your site.
Below is an example of a Traffic Sources Overview.

When you can click on the link within Google Analytics called "Referring Sites," you can find out which other websites and blogs are sending you visitor traffic.
This information is vital for blogger networking. It clues you in to which sites relate well to what you have to offer and which ones attract visitors who will also be interested in your content. From there, it's helpful to guest-post on other blogs, giving you greater exposure and increasing your inbound links.
With Google Analytics, you can also look up the keywords people are using to find your site through the search engines.
If you see several keywords that have nothing to do with your content, then it's possible people are coming to your site and aren't finding what they need. This is a good indicator that you need to take a moment to optimize your content with keywords more specific to your services and goals.
What's Next?
Truly understanding site analytics comes easier with time. If you're new to it, I highly recommend opening an account with Google Analytics (or the tracking program of your choice).
Take the time to get to know the program, and get in the habit of looking at your website stats. The more you explore the tracking tools available to you, the easier they'll be to understand.
Then, throughout the year, we'll continue to bring you updates and more advanced information on how to take advantage of website tracking systems so your professional website (or even your client's website!) will continue to excel and convert.
This article, Beginner's Guide To Web Analytics (And Why You Need Them), was originally published byWealthy Web Writer.

The Professional Writers' Alliance
At last, a professional organization that caters to the needs of direct-response industry writers. Find out how membership can change the course of your career. Learn More »

Published: March 21, 2012