Build Your Own Freelance
Website in Just 4 Days!

If you're going to be successful in your freelance business, you absolutely NEED a website.
And starting May 7th at noon ET, I'm going to help you create one that sells you and your services to potential clients who are looking for a professional freelancer.
It's all part of my LIVE online website-building experience called the Build Your Freelance Website in Four Days Webinar Series.
This is where I help freelancers put up their business websites step by step over the course of four days.
Every attendee has access to everything they need to put up a professional website themselves, gets feedback on their website once it's up and running, and then even learns how to attract potential clients to the website – regardless of whether or not they've had any technical experience to date.
Nothing is left in doubt. And no question goes unanswered.
Check out some of the past attendee websites that have been created: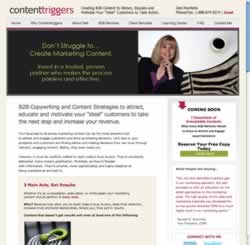 Content Triggers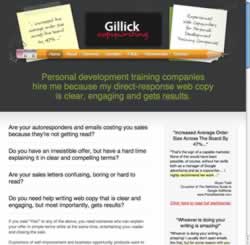 Gillick Copywriting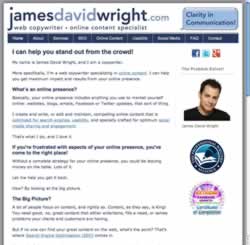 James David Wright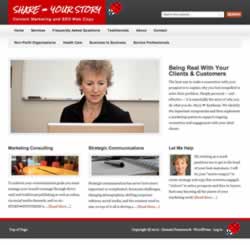 Share Your Story Marketing
Now it's your turn!
If you don't yet have a freelance website for your business, or you're not 100% pleased with the one you do have, I highly recommend you join me for this hands-on, step-by-step webinar series.
In only four days, you'll know everything you need to know to put up a professional website that properly sells you and your services to potential clients.
If you're a freelancer or plan to be one day, you need a website.
Whether you're a copywriter, graphic designer, grant writer, resume writer, or web writer, there's simply no way around it.
Let me help you.
But you have to hurry! The deadline to sign-up, and to save $100 is April 20, 2012.
"Rebecca, You made a complex subject, setting up a website, easy to understand. Plus, you smoothly covered all you had planned within the hour each day. Thanks so much for all you do."
– Stefan A.
"This was a GREAT program! The information provided was thorough and having it available in several formats is so helpful for those of us who are not techies. I may pick something up with one method that I didn't understand with another.

"It's so exciting that you'll be making this a Living Program! So many freelancers get stuck on the website-building part of building a business. All of AWAI's programs are outstanding, but this one ranks near the top of the 'must take' list."
– Ann K.
"Amazing to me as it is … JanetGrosshandler.com is up and running! I NEVER would have gotten this far without your program and encouragement.

"The series was challenging and so full of information that I know I will keep going back to the slides and videos. Plus, the forum is SO helpful as others encountered similar obstacles.

"All in all, this program and especially YOU are the best! You hand-hold us through scary stuff and make the monsters go away. I thank you from the depths of my heart."
– Janet G.
"Thanks Rebecca for the very insightful and nugget-filled building your website in four days webinar series. Wow! What a load of information to digest! You did a wonderful job, very complete presentation, and best of all it is all recorded so I can play it back and make notes. Thanks for your kind attention to detail and for all the wonderful help in your webinar. It will make it much easier to get up and running now that your content was so clear."
– Gary B.
"Happy Friday! Thank you so much for the webinars this week. They were truly amazing! I really wish I could bottle some of your energy! :)

"I've been holding off on putting a website together because I didn't feel that I had enough samples. Now that I am going through the bonus Content Essential Guide, I realize I do have some samples. Yeah!"
– Monique P.
Build Your Freelance Website
In Four Days
Express Webinar Series
May 7th –10th
Questions? Call AWAI's Member Services Team
866-879-2924 (toll free) or 561-278-5557 (outside US)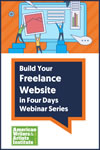 Build Your Freelance Website in Four Days
No matter what niche you're in, if you're a freelancer, you must have a website that showcases what you do. You can launch your own professional website in just 4 days. Experts show you every step. Learn More »

Published: April 10, 2012