Live: The Barefoot Writer April Issue

If you weren't excited about making a living as a writer before, then seeing what our contributors have in store this month will get you there.
That's because we've devoted this month's issue to online opportunities for Barefoot Writers, especially since the possibilities for making a living writing online content increase each day.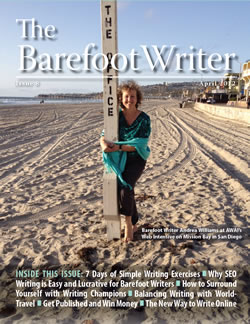 Just some of what you'll read includes
Which online writing specialty has 555 million potential customers and lets you double your fee — page 24
3 quick and easy ways to establish a professional online presence as a writer (two of them are free) — page 21
Your key questions answered, from how to write for this magazine to how to balance all the opportunities in the Barefoot Writing World — page 30
How to surround yourself with champions who encourage and help you achieve your writing dreams (including tips on how to find your champions online!) — page 32
You'll also meet Heather Lloyd-Martin, one of our favorite writers for the world of search engine optimization (SEO). Not only does she share insight on the value of laying your own track, as she calls it, but she also shows you how she did it so she'd be free to travel the world, write, and get paid for it.
And if you want to win an easy $100, don't forget to check out our contests on page 18 and 34.
Click here to access your subscription.
Not a subscriber yet? Click here to learn more about becoming a member of The Barefoot Writer and start living the lifestyle you want by writing.

The Barefoot Writer
Discover a lucrative style of writing that will give you as much freedom as you can have while earning a great income at the same time. Learn More »

Published: April 6, 2012