Breaking News …


Nightingale-Conant Coming to Job Fair

AWAI is excited to announce that Nightingale-Conant, the world's largest producer and publisher of personal development products and services will be back at Job Fair this year looking for more AWAI-trained writers to work with.

Sheila Lothian, Nightingale-Conant's Creative Director had this to say about the event …
"In my 13 years as a copywriter and now creative director at Nightingale-Conant, the AWAI-trained copywriters we've met at Job Fair have been some of the most remarkable copywriters I've had the pleasure of working with, and are responsible for some of our most profitable controls. I can't wait for us to get back down to Delray Beach and meet the up-and-coming writers who will create Nightingale-Conant's NEXT batch of blockbuster promotions!"
AWAI-trained writers, Krista Jones, Monica Day, Catherine Cairns, Joshua Boswell, and Mark Dresner have all landed Nightingale-Conant as a client.
And Maria Jacketti recently joined this impressive group.
"How thrilling it was to write for Nightingale-Conant, who I met at the 2011 Job Fair. And today I received my first check. I am so beyond elated."
Will you be next?
If you've dreamed of working for this self-help market giant, make sure you're at AWAI's FastTrack to Copywriting Success Bootcamp and Job Fair, October 24-27, 2012 in Delray Beach, Florida.
Biggest Career-Boosting Event of the Year!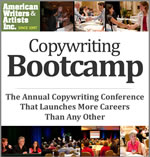 Get million-dollar industry secrets and cutting-edge techniques straight from the experts who created them …
Network with fellow writers of all levels and build a support team to keep you motivated and on track …
PLUS land new clients – or your first client – at our ultimate job fair for freelance writers …
Join us for our biggest writer's event of the year to get all this and more!
Published: May 31, 2012