Live: The Barefoot Writer May Issue

Only one thing holds real power over Barefoot Writers: Passion.
The trick lies in knowing how to harness it … especially if you're ready to get your writing career launched now.
With that in mind, we've focused this month's issue on tapping this powerful force to propel yourself forward — while still enjoying the ride.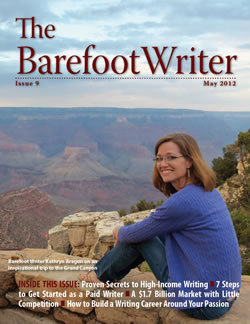 You'll also learn:
How to launch your writing career in seven simple steps (complete with a glimpse of what NOT to do)
A simple technique to dramatically enhance your writing skills
How to make sure your "life buckets" are always overflowing (and why this means a more fulfilling life as a writer)
Which blossoming writing industry offers plenty of opportunity but practically no competition
You'll also get the pleasure of meeting Kelvin Parker, our featured writer for the month. He's a living example of how to capitalize on passion, and he shares some of his hard-won lessons in making big profits.
Plus, win the easiest $100 of your life by snapping a simple photograph … see page 4 for details.
Click here to access your subscription.
Not a subscriber yet? Click here to learn more about becoming a member of The Barefoot Writer and start living the lifestyle you want by writing.

The Barefoot Writer
Discover a lucrative style of writing that will give you as much freedom as you can have while earning a great income at the same time. Learn More »

Published: May 4, 2012