AWAI Across America:
Destination Rapid City, SD

Hi again. Chris and Jim Butler here, reporting from the road …
We're finally living our dream that AWAI made possible for us … traveling around the country in our motor coach, visiting places we've always wanted to see. It's our version of the writer's life! And when we come to your town, we hope to see you, too.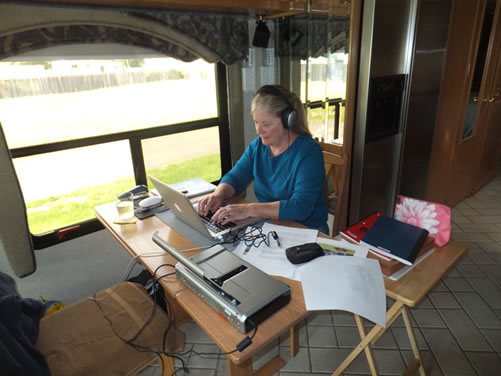 In June, we visited Rapid City, South Dakota, on our way up to Seattle, Washington, where we will kick off our first (of many) Meet Ups with other AWAI members. (You can learn more about the Meet Ups by reading my last post here.)
While we were in Rapid City, we decided to visit Mt. Rushmore, which is quite a sight. Touring the facilities, and reading about the dedication, determination, and focus of the folks working on it is amazing. They gave their all … but even though it was extremely dangerous, not one person lost his life.
Dedication, determination, and focus are important in everything you set your mind to … be it carving a mountain or being a successful copywriter. Sure the first may be a bit more physical (and life-threatening!) than the other, but the mindset is very much the same.
If you want to be successful, you must continue to sharpen your skills through practice and have the determination and focus to keep moving toward your goal.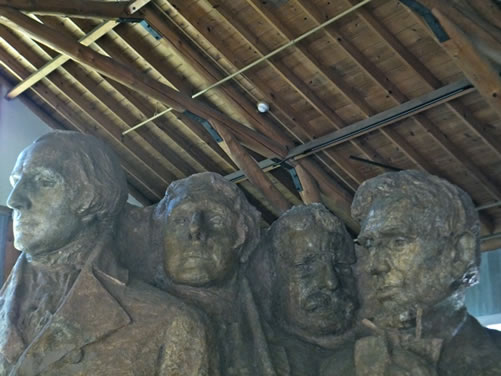 The artist who dreamed up Mt. Rushmore, Gutzon Borglum, used a plaster model to prepare for the real thing. Not even a seasoned artist would start blowing up a granite mountain and start carving without a plan of action that has been tried and proven.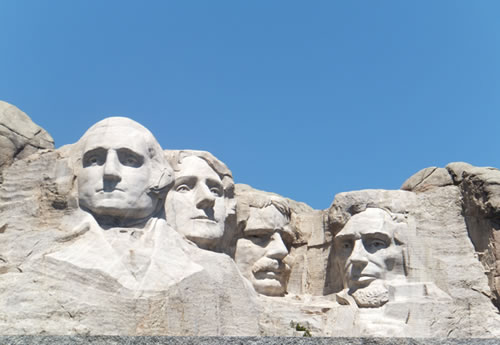 It's beautiful and awe-inspiring. The hard work and dedication is obvious and well worth all of the practice.
And while we may not be able to use plaster models for our writing, there are other tools of our trade that we can use to build successful careers …
The one that has helped me the most so far – and many other successful copywriters I know – is having an accountability partner or group.
These are folks who understand copywriting and can help you reach your goals by holding you accountable week after week.
Don't have an accountability partner yet? Then I have just the thing for you …
As my husband and I travel across the country, in addition to touring national treasures, we'll be visiting several cities where many AWAI members live, and hosting what we're calling a "Meet Up."
Once we know we're coming your way, AWAI will contact you and let you know where we'll be and when.
This will be a prime opportunity for you to meet other copywriters in your area, and meet that accountability partner you've been looking for – or even find a group of people to connect with on a regular basis.
That way you'll always have someone who you can …
Bounce ideas off of
Ask for help
Share your goals with
Celebrate each other's successes, and help each other through any challenges you may face.
I know from experience that an accountability partner or group can help you reach your copywriting goals.
I have two groups I work with, and both offer different perspectives and experience levels on which I can draw … and besides that, they've become my good friends!
If you want some help to move your career forward, someone to practice and sharpen your skills with, then come join us at our Meet Ups and mingle with the AWAI folks that live in your area. They'll become your buds … your Accountability Partners … and they'll give you lots of guidance as you move ahead.
Besides … we'll all have fun getting to know each other, comparing notes, and sharing experiences. Jim and I look forward to talking with you and learning about your successes as well as your challenges …
So be on the lookout for where we'll be next … and if it's in your area, come on down! We'll have a good time!
For those of you in the Seattle area, I hope you've already reserved the evening of July 12th for our first Meet Up. We're looking forward to it and hope you are, too. AWAI will be in touch with you with all of the details.
And if you'd like to suggest your town, or have a question or comment for me, please post it below. I'd love to connect with you from the road …
Hope to see you soon!

The Professional Writers' Alliance
At last, a professional organization that caters to the needs of direct-response industry writers. Find out how membership can change the course of your career. Learn More »

Published: June 29, 2012