AWAI Succeeds in Making the 2012 Event
the "Best Bootcamp Ever!"
This just in from AWAI's 2010 $10K Challenge Winner Roy Furr …
Katie, Rebecca, and Denise, you've told me you challenge yourselves every year. You try to make every year the "Best Bootcamp Ever!"
I've been to multiple Bootcamps before. As have many other AWAIers. And you want me – and those like me – to feel like we're getting more out of this year's Bootcamp than we have from any other year. Like we MUST be there – not just for the fun and camaraderie, but also for the new and career changing content.
I know this year's Bootcamp is still months away and you have more planning to do. Yet after looking at the initial lineup – just those presenters you've signed on already – I can confidently say …
This year will be the "Best Bootcamp Ever!"
You've outdone yourselves yet again, and I'd be making a serious mistake to not be there (the same advice goes for any copywriters – established or aspiring). So take this as my "Yes!" – I'm already mentally starting to pack my bags!
AWAI's FastTrack to Copywriting Success Bootcamp and Job Fair takes place October 24-27, 2012, in Delray Beach, Fl.
Learn more about "the copywriting event of the year" and how you can save $200 when you secure your spot today!
Biggest Career-Boosting Event of the Year!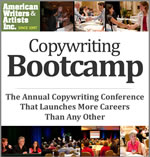 Get million-dollar industry secrets and cutting-edge techniques straight from the experts who created them …
Network with fellow writers of all levels and build a support team to keep you motivated and on track …
PLUS land new clients – or your first client – at our ultimate job fair for freelance writers …
Join us for our biggest writer's event of the year to get all this and more!
Published: June 25, 2012