Meet Up with AWAI Across America

Welcome to "AWAI Across America." This is a new feature within the AWAI blog that allows my husband and me to share our travel experiences with you, talk about writing while on the road, and let you know about special AWAI Meet Up Events we'll be hosting across the country.
Hi, Chris and Jim Butler here reporting on our journey around America in our motor coach. Thanks for joining us. We're glad to have you aboard!
Who are we? We're living examples of what it means to live the writer's life that AWAI makes possible for all of us.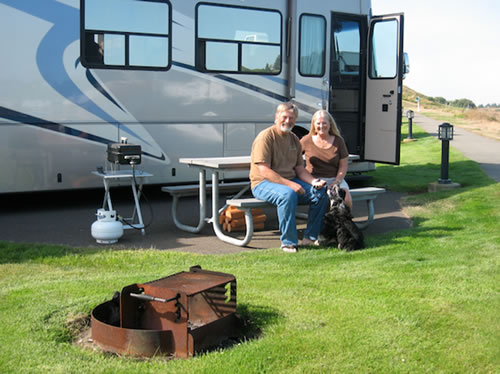 Jim and Chris with our dog, Farley, in front of "The Rig"
Like most AWAI members, the appeal of the writer's life is what sold me on becoming a copywriter. You can do it from anywhere, and at any time that suits you … not your boss. In fact, you ARE your own boss.
My story is probably similar to yours. I bought my first AWAI program (AWAI's Accelerated Program for Six-Figure Copywriting) about four years ago after receiving a direct-marketing packet asking me "Can You Write a Letter Like This One?".
My initial response was "of course I can" and I sent away for the program. Little did I know at the time that it would lead us toward the reality of living our dream … earning money while exploring our beautiful and exciting nation.
Ever since we bought our motor coach, 10 years ago, we've wanted to sell our house, move into the coach full-time, and travel … visiting areas we've read or heard about … while visiting friends we have throughout the country.
Through AWAI, I've learned how to earn enough money through freelance copywriting to help fund this dream trip. Jim and I are both retired from corporate jobs and appreciate the additional income we're now earning so we can continue to pursue our cherished dream of RVing across the country.
The best part is that I love to write and I can continue my new career as we pursue our goals of visiting as many National Parks as we can and trying to drive to every state … with the exception of Hawaii, of course … unless we put floats on our coach! That might be more of a challenge than we want!
So in May, we took the big plunge. Our house is on the market and we moved into our motor coach. We're now living our dream and having a ball!
I'm not saying we haven't had challenges, which I will share with you along the way, but we're enjoying learning about our country in a way we never could before.
We've met the nicest people, seen some outstanding scenery, and learned so much history … and we haven't even been on the road a month yet.
Since RVing is my chosen copywriting niche, I also get the opportunity to use what I learn along the way for many of my writing projects … experiencing things firsthand and truly becoming an expert in my field.
We want you to enjoy our journey with us! So please … follow us along here on the AWAI blog as we continue our tour. Also, we hope to meet many of you along the way — more on that in just a minute!
Here's a quick update on our travels for this last month …
We left Tucson, Arizona, and aimed The Rig (our Motor Coach) east. We crossed New Mexico, and half of Texas. Our target was Austin, where we met up with Rebecca Matter, Co-Managing Partner of AWAI, and my AWAI mastermind group. We spent an enjoyable day-and-a-half sharing our triumphs as well as tribulations as web copywriters. We learn so much from each other every time we meet … whether face-to-face or via a call.

Mastermind group in Austin enjoying dinner
From there, we headed up toward the Pacific Northwest. Had a rather scary moment near Denton, Texas, where a misplaced steel fence post pierced the gas tank on our tow car. We were very fortunate it didn't ignite — and that the story has a happy ending. No one was hurt and our car now has a brand-new gas tank. We were back on the road in less than 24 hours … which is amazing in itself.
Our next encounter with an AWAI member was in Colorado Springs, Colorado. We met Bob Edelstein and his wife Patty for dinner. I met Bob at the Web Intensive two years ago and we've been writing buds ever since!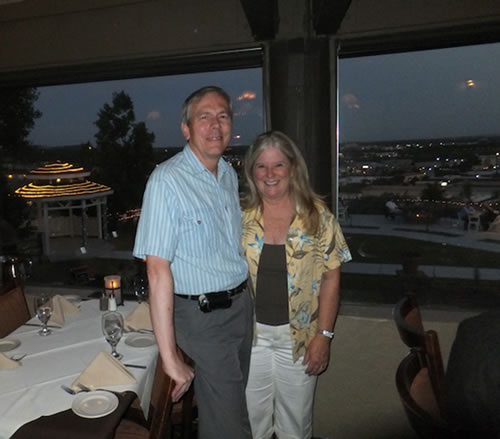 Bob and Chris in Colorado Springs
… and now we're off again to our next location, which brings me to a special invitation we'd like to extend to you.
Let's Meet Up in Seattle!
We're continuing up to Washington and Oregon — our old stomping grounds.
And, when we get to Seattle on July 12th, we're going to host the first of what we hope will be many AWAI Meet Ups — casual Happy Hour get-togethers with drinks and snacks.
If you're in the Seattle area you'll be receiving an invitation via email from Katie Yeakle on Monday July 2nd with an RSVP date of July 9th.
We can all share our copywriting experiences and, best of all, you'll get to meet other AWAI members in your area — in person!
So come aboard our motor coach and follow us on our journey. Follow us on AWAI's blog, Facebook, and Twitter. We'll share with you our good times as well as our challenges. We'll introduce you to AWAIers we meet along the way. And, we'll let you know when an AWAI Meet Up is coming to your hometown.

The Professional Writers' Alliance
At last, a professional organization that caters to the needs of direct-response industry writers. Find out how membership can change the course of your career. Learn More »

Published: June 22, 2012