Monetizing Your Keywords with
Affiliate Marketing

E-commerce websites, like all businesses, make money when products change hands in exchange for money.
There's the old-fashioned way …
You stuff your garage full of products for sale and advertise them on your website. With every sale, you go fetch the product, box it up, label the box, slap on some postage, and then take it to the post office and mail it to the customer. But you're not done yet. If the customer isn't happy, you have to handle customer service and process refunds.
You might break even for all that effort once you've factored in all your time.
There is an alternative that can be a very profitable way to monetize your site, and it's a lot less hassle.
With affiliate marketing, you get a commission on every sale originating from your site. And all you have to do is advertise the products. Your affiliate partner handles order processing, sending out the product, refunds, customer service, etc.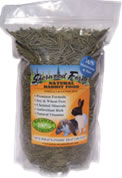 When we promote an affiliate service or product on our site, we want our visitors to know that we truly do feel that the product or service is top-notch. As part of building that trust with our visitors, we frequently write a keyword-focused web page featuring the product or service.
For example, we wrote "Rabbit Feed," a page reviewing the virtues of the Sherwood Forest brand of rabbit feed. The keyword itself, 'rabbit feed' (demand: 611; supply: 181), will bring traffic to this page.
But we also promote this page by linking to it on other web pages on our site related to the topic of rabbit feed, namely most of the 'pet rabbit' and 'feeding rabbits' pages. Visitors to these pages may very well be interested in top-quality pelleted rabbit food.
Amazon.com is one of the most recognized of affiliate programs. Once you have an Amazon affiliate account, you can link to virtually any of the products for sale through Amazon.com related to your niche. Books, clothing, shoes, cameras, household items, movies … your options are nearly limitless.
It's very easy to sign up. Just go to https://affiliate-program.amazon.com/ and follow the directions.
Affiliate products by definition are products that are related to your website's niche. Therefore, every intersection of the topic of a web page with an excellent product represents an opportunity to actively promote various affiliate products.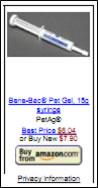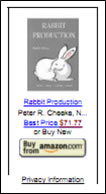 For example, in the page Rabbit Care, we've posted an Amazon link to a product called Bene-Bac, which is a probiotic that helps prevent diarrhea in rabbits.
On Rabbit Food, we've posted an Amazon link to the book Rabbit Production, a renowned scientific authority on the mechanics and scientific details about raising rabbits, especially for meat production.
There are dozens more of these individual links throughout our website, each positioned to address the needs of the visitors to that particular page.
If needed, you can place additional links throughout your website that will take visitors to pages hosting affiliate links. This will improve their visibility to your visitors and conversion rate.
Amazon isn't the only affiliate network out there.
At ClickBank.com, you can find e-books, audio files such as music or informational recordings, and educational video files and how-to videos. All digital products you can market on your website and get paid a huge percentage to do so.
You can create a ClickBank affiliate account for free at http://www.clickbank.com/index.html, and then find products in your niche that you can market on your website. The payout is frequently up to 75 percent of the cost of the product.
There are many other affiliate programs out there for specific companies. But in all cases, your website's keywords will more or less dictate which affiliate relationships you should pursue and how you advertise them on your website.
The more traffic your website garners, the more people will be drawn to and funneled past your various affiliate opportunities.
In the case of www.raising-rabbits.com, we have found or developed a number of excellent affiliate relationships based on the needs of the visitors who were drawn to our website through particular keywords. We'll note the page keyword here and then the affiliate program we are using to monetize that page:
Rabbit Feed: Sherwood Forest All Natural Rabbit Food is a brand-new rabbit feed company that pays us 10% of the purchase price when our visitors purchase their feed. It helps that we think their rabbit feed is state of the art.
Fly Predators: Spalding Labs' signature products are packets of fly predators. These are tiny nocturnal flies that kill the cocoons of house and horse flies by laying their own eggs in them. The larvae eat the house fly pupae. Voila, within a month or so, no more flies in the barn. This is a very attractive proposition to many of my visitors. They, like me, appreciate that they can get effective fly abatement without the use of poisons.
Ammonia Levels: Spalding Labs has also created a product called Bye Bye Odor that removes odors naturally by microbial action. For a rabbit farmer, this is very important for the health of rabbits' lungs.

Rabbit Supplies: Our Rabbit Supplies Store is actually an Amazon store geared specifically to everything a rabbit breeder or owner might want for his or her rabbits. We receive a commission from Amazon of 6+ percent of the purchase price of whatever is purchased through our store.

Additionally, Amazon places a 24-hour cookie on the visitor's computer, so if they return to Amazon and make a purchase, we will receive a commission for that purchase as well, whether they buy a computer, camera, or big-screen TV. Nice!

Homemade Pet Food: Carolina Pete's Rabbitry pays a low advertising fee, plus a percentage of sales generated through Raising-Rabbits.com.
I mention these examples to show you the vast range of affiliate opportunities out there. No matter what niche your website addresses, you can set up profitable arrangements to promote a variety of related products.
Are you interested in a travel website focusing on Santa Barbara, California? You're sure to find excellent affiliate opportunities connected with these and many other keywords:
Santa Barbara Resorts
Santa Barbara Restaurants
Santa Barbara Wineries
Type each keyword into a search engine. You'll find pages and pages of possibilities. Those resorts on page 2 or 3 of the search engines may be very happy to make an affiliate arrangement with you for the added publicity, especially as your website begins to build in traffic.
Are you interested in knives? There are kitchen knives, Buck knives, Swiss Army knives, and Wenger knives. There are Bowie knives, folding knives, steak knives, and utility knives. There are survival knives, Wusthof knives, paring knives, and knife sets. Many of these knife manufacturers have affiliate programs that will pay you a commission for selling their products. Plus, they do the shipping and handle the headaches for you. By visiting each manufacturer's website, you'll find the various affiliate programs they offer.
Affiliate programs are excellent ways to build significant income from your website. The more you look and the more keywords you utilize, we're betting the more of them you can find. Heck, manufacturers in your niche may be willing to create an affiliate program just so they can take advantage of the number of sales your excellent traffic can bring them.
It works for www.Raising-Rabbits.com, and we're quite certain it will work for you too.

How to Write Your Own Money-Making Websites
Learn how to write an information website in your spare time and earn $1000, $3000, even $5000 a month in passive income. Learn More »

Published: June 20, 2012