Live: The Barefoot Writer June Issue

If you'd like to start the summer off with a bang, this issue will help you do it.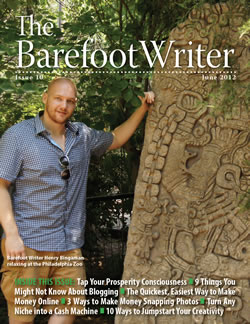 From busting through your "invisible ceilings" in prosperity to ensuring you make the most of the newest communication powerhouse for writers (aka, blogging), you'll learn about new and exciting ways to launch your writing dreams.
You'll also discover
6 tips to make any niche more lucrative
How to make money taking simple photos on your next vacation
9 ways blogs have transformed communication
How to win $100 in "summer-fun" money
Plus, get to know ultra-successful B2B writer Dianna Huff and find out what prompted her steady climb to six-figures and total satisfaction.
Click here now to read your June issue of The Barefoot Writer.
Not a subscriber yet? Click here to learn more about becoming a member of The Barefoot Writer and start living the lifestyle you want by writing.

The Barefoot Writer
Discover a lucrative style of writing that will give you as much freedom as you can have while earning a great income at the same time. Learn More »

Published: June 1, 2012