What Do You Focus On?

If you've ever heard famous motivational guru Zig Ziglar speak, you know his catchphrase – "Your attitude determines your altitude."
AWAI member Kathryn Aragon is a shining example of this. After speaking with her, I couldn't help but feel uplifted.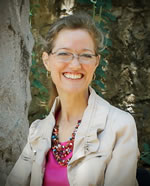 Ever since she could remember, Kathryn wanted to be a writer.
And for years, she kept thinking that her dream of making a good living writing wasn't possible. It wasn't until she attended a writers' conference that a seed was planted. She finally believed, "I CAN do this!"
From that point on, Kathryn decided on writing copy as a way to fulfill her passion AND create a nice living for herself. This led her to landing a full-time job as a staff copywriter. After about three years at that job, she decided it was time to launch her freelance business.
She took a leap of faith and attended AWAI's 2010 Bootcamp. As a result, Kathryn landed her first freelance client. The rest is, as they say, history.
Today, she's living her version of the writer's life. What's more, she thanks her lucky stars she took the leap when she did. In fact, her business has been a bit of a lifesaver.
Let me explain …
A few months ago, Kathryn had a medical procedure go wrong. It resulted in a spinal injury that left her partially paralyzed and bedbound.
Many would go into a deep downward spiral after having something like this happen to them. Not Kathryn.
As I spoke with her, I could hear the joy and positivity in her voice. She hasn't let this incident stop her from moving forward.
Actually, she told me she didn't know what she would've done if she hadn't had her freelance business when it happened.
It's played a huge part in helping her heal. It kept her from panicking after things had gone wrong. It kept her mind occupied and it provided a strong support system as a result of all the connections she'd made with other freelancers.
These days, business is booming. She's in the midst of raising her fees and is working on creating her own products.
A few lessons we can all learn from Kathryn:
Keep a good attitude in the face of adversity. It's easier said than done, to be sure. But it's key to getting past any challenges that rear their ugly heads. Expect you'll come out on top. Staying positive and working on your attitude will ensure you can navigate past the choppy waters and come out through it all in the best way possible.
The only way to get better at something is through practice. Kathryn did this by taking a full-time job as a copywriter, where she'd have to write every day to develop her skill. If you want to succeed as a writer, this means you'll need to write often and treat it as a "practice." It's no different than practicing the piano or a golf swing every day in order to get better.
Have you ever experienced a setback or challenge that you ultimately overcame?
Why not share it in the comment section? Everyone has experienced a unique set of challenges at some point in their lives. By sharing, we can all learn from each other.
Stay tuned for tomorrow, where you'll find out what the writer's life looks like for one of AWAI's youngest members!
Oh, and one more thing … before she launched her freelance business, Kathryn had already honed her copywriting skills at her full-time job. But there's one skill she didn't have … and credits AWAI for giving her the info she needed when she needed it.
Can you guess what it was? If you guessed "getting clients," you're right!
That's why having the right resources when you need them is critical to your success. And when you sign on as an Infinity Program member, you'll get ALL of AWAI's resources at your disposal.
You'll be able to develop your skills and tackle any copy-specific or business challenges that come your way.
For a limited time, you can get access to ALL (100+) of AWAI's resources at a huge 89% discount. Click here to learn more.

The Professional Writers' Alliance
At last, a professional organization that caters to the needs of direct-response industry writers. Find out how membership can change the course of your career. Learn More »

Published: June 26, 2012