AWAI Across America:
Destination Glacier National Park, Montana

Goal: Find Me a Moose!
Chris and Jim Butler here with more from the road as we continue our AWAI Across America Tour in our motor coach. Thanks to AWAI, we can live our dream and keep my copywriting business going at the same time! A true writer's life experience! Welcome aboard, glad you could join us.
It's really amazing to be traveling like this. It's been our goal for over 10 years … and now we've achieved it!
We've all been told at one time or another how important goal setting is. Scott Reed, an African-American author of poetry, essays, and satiric novels, once said: "This one step — choosing a goal and sticking to it — changes everything."
Let me tell you about some other folks we've discovered along the way who set goals and made their dreams come true …
We just left Montana and one of our favorite places in the country: Glacier National Park.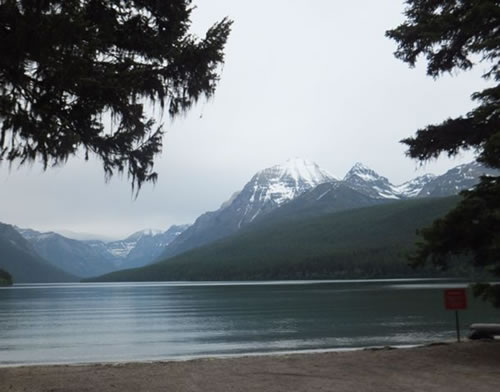 The park is 1,583 square miles of absolute splendor!
The lakes, waterfalls, and mountains are never ending and the park service has done a wonderful job protecting its pristine beauty. It is near Kalispell, Montana, and reaches north into Canada.
President Taft established this expansive area as a National Park in 1910 — the culmination of a 15-year effort by an influential community leader, George Bird Grinnell. Grinnell had set a goal to make this area a national treasure that future generations could enjoy. He had a clear visual of what he wanted, and he pursued it until it was accomplished! Thanks to him and his goal, we all get to enjoy it, as do our children and grandchildren.
In 1932, it was united with Waterton Lakes National Park of Canada to form The Waterton-Glacier International Peace Park. It's considered a World Heritage Site.
They offer scenic cruises around Lake McDonald, the largest and most accessible of the many lakes within the park. It is magnificent!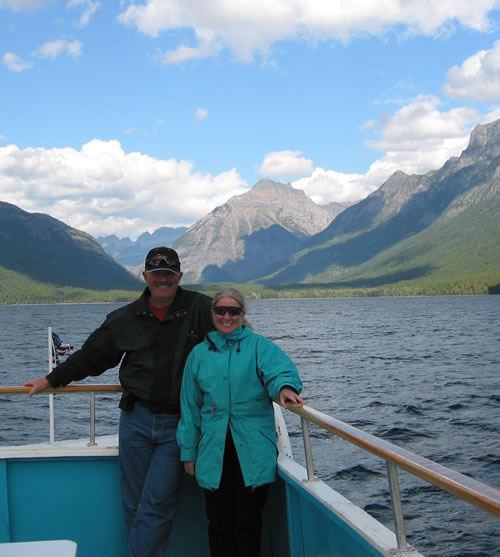 The wildlife is spectacular and fun to watch. We saw lots, including two big-horned sheep as they ran past our car. They were running so fast I couldn't even get a picture of them … got a nice picture of our steering wheel though. That sure wasn't my goal, but sometimes things don't go as planned. You just have to keep moving forward toward the next adventure, which, in our case was …
A bear!
The bear was adorable. He was just a little guy way up in a tree having a snack. I'm a wimp; I didn't get out of the car. Lots of people did though, and they sent their kids on up to take a look.
This cub was harmless enough because he towered above everyone in the trees. However … I'm always looking out for Mama Bear! Who knows where she is or when she might just pop out of the woods. People should heed the warnings of the park rangers — especially with their young kids!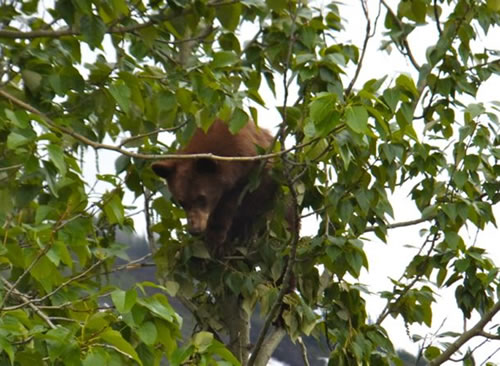 We saw the bear on our way up the "Going-to-the-Sun Road," which is a very narrow, two lane, 50-mile long road that takes you over Logan Pass. It crosses the entire park and the Continental Divide. How they ever built the road, I'll never know, but they did it in 1932. Again, it is an example of someone having a goal — and pursuing it even in the face of a lot of obstacles.
It is an engineering marvel, and way up there, with no shoulders … and it goes straight down the mountain on the outside lane. They're building more barriers along the side, but many places don't have one yet. If you're afraid of heights, you may not enjoy it much.
One cool thing along the road is the presence of waterfalls that come right down the rocks and onto the road. You drive right through them! Picture that if you hit an obstacle on the way to your goals — you just keep driving through the tough spots, and don't let the circumstances, fear, or risks stop you.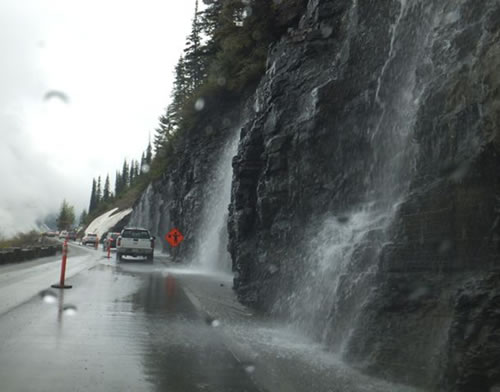 Whenever I go through a park like this, I'm always on the lookout for as much wildlife as I can find. This time I was bound and determined to see a moose!
I was looking very hard, but unfortunately, they were hiding from us. So even though my mantra for the day was "Gonna find me a moose!" I was unsuccessful … bummer!
Jim felt badly, so he did his best to help me see that moose!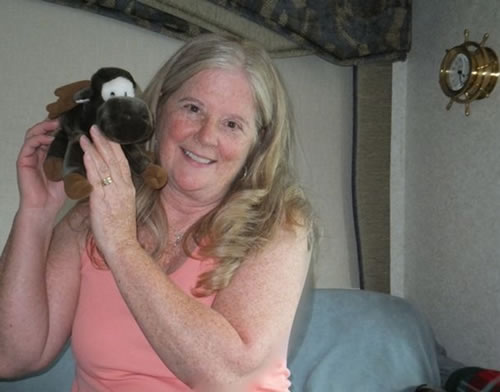 Maybe next time … and there will definitely be a next time! For now, my new little moose is a reminder that achieving a goal may sometimes look different from what you pictured. And that's okay. It's just important that you keep setting new goals along your journey.
Just as these folks had goals for a gorgeous National Park and a road that made you feel like you were driving right to the sun, we all need to make goals around our copywriting careers. Like Yogi Bear – whoops make that Berra – said, "If you don't know where you are going, you will wind up somewhere else." What are your goals? Are they clear, specific, and do they have a timeframe? If not, then you need to rethink them.
So now, we're off to our next goal — making our way across Idaho and Eastern Washington. We are continuing our journey toward Seattle to our first AWAI Across America Meet Up. I'm so excited!
I'm hoping to see a couple of my good AWAI buddies as well as make lots of new friends. It's so nice to have someone nearby that you can consult with about your writing … and this is the perfect way to meet that someone.
So if you are in the Seattle/Bellevue/Tacoma area, come join us and share your copywriting goals and dreams with us. Tell us where you are going with your career.
The Meet Up date is Thursday, July 12th. For those of you in the area, you should have received an invitation from AWAI by now. If you didn't get one and are interested in attending, let me know at cbutler@awaionline.com. The big event will be at the Sorrento Hotel in downtown Seattle from 5:00 to 7:00 p.m. PDT. You'll find us in the Fireside Room. Drinks and snacks are on us. All you have to worry about is parking.
Remember … the Meet Up is July 12th! Hope to see you there!
If you have comments or suggestions for us, enter them below. We'd love to hear from you. Let's hear about your goals!

The Professional Writers' Alliance
At last, a professional organization that caters to the needs of direct-response industry writers. Find out how membership can change the course of your career. Learn More »

Published: July 6, 2012