AWAI Across America:
Destination — Yakima Valley, Washington

When and Why You Should Change a Goal
Hi there, Chris Butler once again with a view from the road.
Jim and I are continuing our travels across the country in our motor coach and still having a great time. Our overall goal: to go to all 50 states and to visit as many National Parks as we can.
Following our first AWAI Meet Up in Seattle, (if you missed the recap and photos, you can check them out here), we ventured across the Cascade Mountains to the Yakima Valley in Central Washington.
One Washington claim to fame is its Wine Country. Next to California and New York, Washington is the third largest wine-producing state in the Union and a lot of the grapes can be found near Yakima. Vineyard after vineyard reaches across the Valley, and of course that means plenty of wineries and tasting rooms to visit.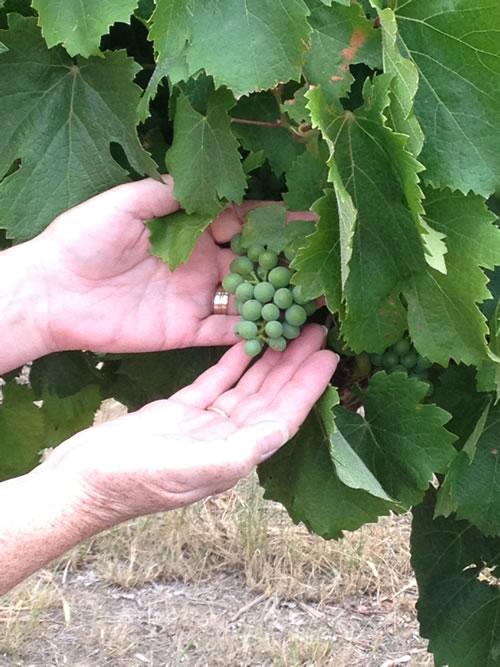 After checking off "touring several wineries" from our list of "must do's" for this trip, we decided to have a picnic right here in Jim's old stomping grounds. You see he grew up here in Yakima. In fact, his 96-year-old mother still lives here.
We were headed out along the highway to visit one of his dad's old fishing holes. But guess what? Detour!
Don't Let Obstacles Throw You for a Loop!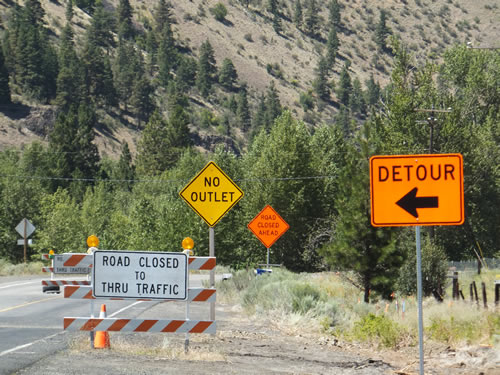 We'd heard of the landslide, but it happened almost three years ago in October of 2009. Little did we know they had not made much progress in fixing the road.
So due to Mother Nature, we were forced to change our goal. We decided to branch out a little and see where the detour would take us.
We were glad we did. Neither one of us had been down this path before and we found all kinds of new sights along the way, including quaint country houses with loads of beautiful flowers blooming in their yards; some vineyards in the early stages of development; some local funky restaurants off the beaten path; and a river weaving back and forth around the trees.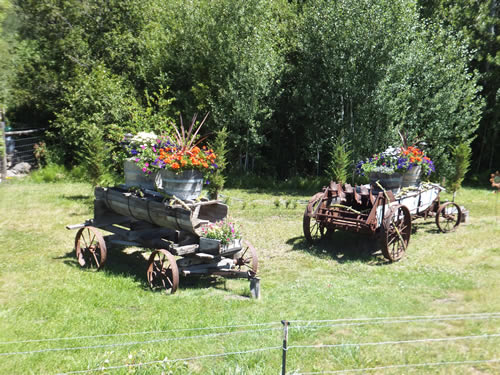 Just like with copywriting, instead of beating your head against the wall or getting upset when things don't go exactly the way you planned, you need to constantly be reviewing and adjusting your goals according to circumstances.
Many times, things totally out of your control can force you to go down another path. Don't let it discourage you. Embrace the challenge and see where the new route takes you. Take some risks toward the unknown. You might be pleasantly surprised.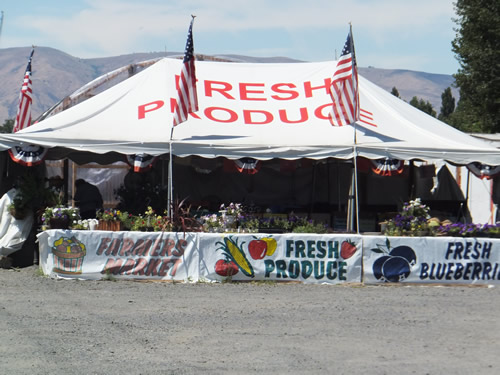 So although we never did make it to the old fishing hole, we saw new places that were just as unique and beautiful. And the rainbow at the end of the storm was this magnificent fruit stand with local produce that we would never have discovered. If we'd gone the same way we've always gone before, we would have missed out on a fresh adventure.
Next Goal: AWAI Meet Up in Portland, Oregon
And speaking of adventures, our next one will be our second AWAI Meet Up, which is scheduled for Portland, Oregon, on August 2. If you live in the area, you should have received an invitation by now. Make it your goal to attend.
If you didn't get an invite and are interested in meeting other writers in your area, let me know at cbutler@awaionline.com. I'd be glad to sign you up and give you the details on where to find us.
The Meet Up is a great way to get to know other AWAI members in your region. These folks understand what you do and can help you advance in your career and meet your goals. You can form an accountability group that will help you stay focused and on track.
There are no formal presentations or sales pitches. It is just an opportunity to get acquainted with some of your neighbors who chose a similar path as you.
Even if you have to take a detour to get there, it'll be worth it! I encourage you to join us for a couple of hours of social time and grab something to eat and drink. It's free.
Share a fun evening with us and make some new local copywriter friends. Talk about where you are and where you want to be with your career. Share experiences, obstacles, and accomplishments. You'll be amazed to find out how many people are in a similar position.
So barring any road closures, acts of nature, or other unforeseen challenges, we will be in the Portland area next. Hope to see you there!

The Professional Writers' Alliance
At last, a professional organization that caters to the needs of direct-response industry writers. Find out how membership can change the course of your career. Learn More »

Published: July 30, 2012