AWAI New Member Orientation

Here at AWAI we have a variety of resources and tools to help our members make a living writing, and achieve their dreams of living the writer's life as quickly as possible.
So on Thursday, November 15th at 12:00pm (EST), Katie Yeakle, Rebecca Matter and I will hold a NEW MEMBER ORIENTATION to make sure all of our members are informed about everything they have access to, answering any questions they may have about the company, the programs offered, achieving their goals, and anything else they'd like answered.
If you're new to the AWAI community and would like to register for this FREE webinar, click here and follow these instructions:
Locate "Register" link
Fill out requested information
Remember to use this information (Name, Email) to access the live webinar
If you have ANY questions at all that you'd like to see addressed, please feel free to email me at newbuyer(at)awaionline.com – I'll do my best to make sure your questions are answered during the webinar.
If you can't make the live meeting, don't worry. We'll send a link for the recording to everyone who registers for this event. So be sure to register!
Important Note: If you haven't participated in a WebEx session before, it is important to test your browser by joining a WebEx TEST meeting BEFORE the actual webinar. Please copy and paste this link in your browser: http://www.webex.com/lp/jointest/
Work with the AWAI Team on a Real Writing Project!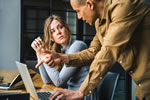 "Simulated Training" is AWAI's newest interactive learning where you get to work directly with AWAI's copy chief on a real writing project.
Not only will you experience what it's like to write for a real client — you'll learn what to do at every stage of the writing process … plus you'll get live personal feedback on your writing.
And right now, we're offering a limited number of spots FREE to members of our highest level of learning.
Go here now for full details …
Published: July 17, 2012