Create Your Own Insta-Marketing Strategy With Instagram

With so many new types of social media out there, it's sometimes hard to keep up. Many of us already use the likes of Facebook, Twitter, YouTube, Google+, and now even Pinterest. Is there really room for more?
The answer is yes, and it comes in the form of a vintage-style photograph and a free photo-sharing program. What is it? Instagram.
Instagram is just a simple smartphone app that adds a tinted filter to photos. It lets you post your pictures instantly on various social media channels.
Even if you're not familiar with the app itself, you've probably seen Instagram photos posted by your friends on Facebook. You may have even seen some from companies like Starbucks and NPR. It's even gaining momentum with nonprofits like Charity Water.
Companies like it because it helps them build their brands, create contests, and keep fans and followers active and interested.
But you can take advantage of all this, too.
Instagram and Pinterest, a pinboard-style social photo-sharing website, are the new big players in the social media arena. And for good reason. As web surfers see more and more content vying for their attention, it's the photos that really jump out on the page — much quicker than any words.
The Facebook community alone uploads 250 million photos a day. And according to a study by Harvard Business School, an estimated 70% of social network activities (Likes, shares, comments … ) all center around photos.
Sure, copy is king and a big headline matters. But combine that with an interesting photo and you've got yourself a message with promising visibility. Plus, if you include a terrific photo, there's a greater likelihood that people will share your news with others.
How Photos Can Help You Market Your Writing Business
Just like any other form of social media marketing, Instagram is all about sharing interesting content and maintaining a conversation with clients and prospects. How do you do this? Get creative!
You can do anything that gives your business a bit of personality. Your clients may enjoy seeing your new kitten sleeping at the base of your desk (if you're on Facebook, you've probably noticed most of us are smitten with pet pictures). Or, as a writer, it could be fun to post a photo of our favorite thing: words. Maybe a shot of a motivational quote or a funny poem.
I just took a picture of my draft of this very article, and I have to say … it looks much cooler on Instagram than it does on my computer screen!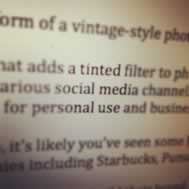 While this may not be the ideal photo to post, it's a way to get started with Instagram's entertaining photography tricks.
And here are just a few other ways you can play around with the app: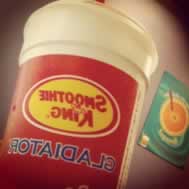 Here's my afternoon snack … backwards.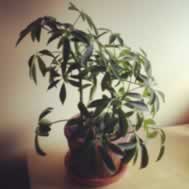 And here's some greenery from my office … yet it looks like a page from my mom's 1971 photo album.
Now it's your turn to play around with "Instagraphy."
How To Get Started
To get started with Instagram, you only need a smartphone. From there, download the free app and sign up for an account. When you join, you'll be asked to connect with your other social media accounts and search for contacts on email.
Be sure to follow your clients and those in your network. Then, snap away. For each photo you take, you have a range of filters to play with until you find your favorite finished look.
When you take photos relevant to your business audience, share them, and add a relevant caption.
In the meantime, engage with your network. When you see a photo that catches your eye, Like it or comment on it. And reply to the comments you get on your own photos. (Sound familiar? It's a lot like having a conversation on Facebook.)
There's also a hashtag (#) feature for easy keyword tagging — just like Twitter.
Instagram is like the icing on the cake for all other social media sites. Given that, it makes sense to join the other platforms, like Facebook and Twitter, before getting hooked on Instagram.
But keep in mind — you can also save and send Instagram photos via email and skip other social media channels altogether.
Tips From Successful Instagram Users
In addition to all the fun you can have using Instagram to brand your web-writing business, here are a few ideas from other businesses to help you capitalize on your marketing options:
Initiate relevant conversations with your audience.
Keep the chitchat going. Are you a travel writer? Post a photo of one of your favorite destinations and ask fans to chime in on their favorite spots, too. Do you write for IT/software companies? Snap a shot of your latest, greatest computer gadgets and write about them.
Create a contest.
Think of a prize your clients would be interested in, like a free SEO assessment or maybe some complimentary autoresponders. Then, have your contacts post their own Instagram photos in your network and choose a winner.
Let's say your niche is the health and fitness industry. Ask your network to send in pictures of their favorite super-food or a snapshot of them doing their favorite workout.
Then, keep track of the contest entries by asking participants to tag their message with a hashtag — let's say #writeforfitness. This may be the answer to get things rolling with prospective clients, or to help build your list.
An example of a company that did a contest well — and in the B2B industry, no less — is General Electric. They asked their social media network to take photos of GE products for a chance to land a job as their official "Instagrapher" (Instagram photographer) along with winning a trip to the UK.
Who knew so many people would get excited about posting photos of their refrigerators? But that's what happened, and the company attracted a lot of online attention.
Is Instagram Here To Stay? My Projection … Yes!
For a program that simply provides "instant old photos," it sounds like something that could easily phase out. Then again, many people thought Twitter would fizzle, and it keeps on trucking.
But there must be some reason why Facebook paid $1 billion dollars for the little Instagram app. Household names like Levi's, General Electric, and Tiffany & Co. are on board and seeing good results using Instagram as a new marketing channel.
Within just two months of Instagram's launch, the company boasted a million users. Now it has more than 45 million users — and continues to grow.
So yes, I'd say it's worth joining Instagram to boost your branding strategy and attract attention. And even if that weren't the case … you'll discover it's surprisingly fun.
This article, Create Your Own Insta-Marketing Strategy With Instagram, was originally published by Wealthy Web Writer.

The Professional Writers' Alliance
At last, a professional organization that caters to the needs of direct-response industry writers. Find out how membership can change the course of your career. Learn More »

Published: July 25, 2012