Live: The Barefoot Writer July Issue

Now is the time to step up and declare your freedom as a writer.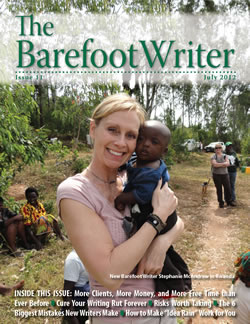 That's why we've packed the latest issue of The Barefoot Writer with tips on how to launch your writing dream sooner than you ever thought possible. We've even put together a checklist of the top 15 steps to get you there.
You'll also discover …
Common mistakes new writers make in landing paid work
How to wake up your brain and keep your ideas fresh
A free service that helps you brainstorm
How to take your writing business on the road in the blink of an eye
Best of all, we're happy to introduce you to Peter Bowerman, a highly successful commercial writer who unloads a heap of blue-ribbon advice on getting started.
Click here now to read your July issue of The Barefoot Writer.
Not a subscriber yet? Click here to learn more about becoming a member of The Barefoot Writer and start living the lifestyle you want by writing.

The Barefoot Writer
Discover a lucrative style of writing that will give you as much freedom as you can have while earning a great income at the same time. Learn More »

Published: July 6, 2012