AWAI Across America:
Destination — Portland, Oregon

AWAI Members in Portland Take a Major Step Toward Reaching Their Goals
Lao Tzu, a philosopher of ancient China, once said, "The journey of a thousand miles begins with one step."
This is an important thing to remember whether you are planning to climb a mountain, run a marathon, or start a new business — nothing will happen unless you take that first step.
The same thing goes if you are planning to become a freelance copywriter, Internet researcher, or photographer like the members who attended the recent AWAI Meet Up in Portland, Oregon. You must figure out what it is you want to do and take that first step to get you started toward that goal.
The Portland folks took that step by coming to the AWAI-sponsored event to seek support and information and meet other AWAI members in their local area. Even though their interests varied, they all shared a common goal.
They want to live the writer's life … no schedules to bind them, no bosses telling them what to do, no confining cubicles, and no commutes. They want to be in control of their own lives.
So what better first step than to surround themselves with other people interested in the same thing, creating a local support group made up of neighbors with similar ambitions?
Now that they have been introduced, they plan to stay in touch and provide encouragement to one another.
Wendy and Pete have taken the lead for planning the follow-up meeting and will pick a centralized point within the city to try to accommodate the majority of people interested.
They are still looking for other AWAI members in the Portland area to join them. If you are interested, contact AWAI or go to the AWAI Groupsite and look for Portland area activities.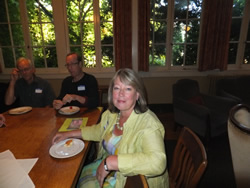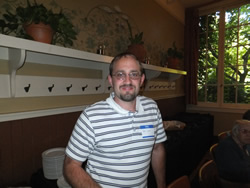 Our get-together was held in a former place of learning … the building was previously Kennedy Elementary School. McMenamins, a local company known for their renovations of classic buildings, turned it into a hotel/entertainment facility with guest rooms, restaurants, meeting rooms, theme bars, a theater, and a concert hall.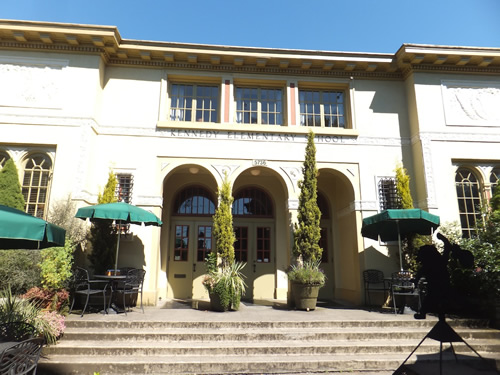 Our group was appropriately scheduled to meet in the library. So while surrounded by books, we shared our goals and the challenges of our personal freelance dreams.
Tom, Jackie, Wendy, and Cindy were among several attendees who are interested in photography and/or travel writing …
Candace M. is also interested in travel writing but specifically about trains …
Isabel and Candace S. are interested in Internet Research among other things. One fun piece of information we discovered was that Candace S. went to kindergarten at Kennedy Elementary School, so she felt right at home …
Lisa has experience working with wine distributers and wants to take advantage of the fast-growing wine industry in Oregon by writing B2B copy in that niche …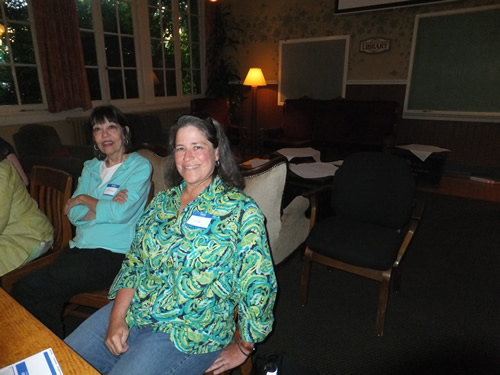 )
Pete currently works in the industrial market and wants to use his knowledge of the subject to get into B2B writing and newsletters relating to this topic …
Nancy has many interests including the arts, nonprofits, and real estate, and is uncertain at this point which direction to follow … Hopefully meeting up with fellow AWAI members like this will help her on her journey.
Even though their interests spanned a wide variety of fields, they all want to be on their own in the freelance world.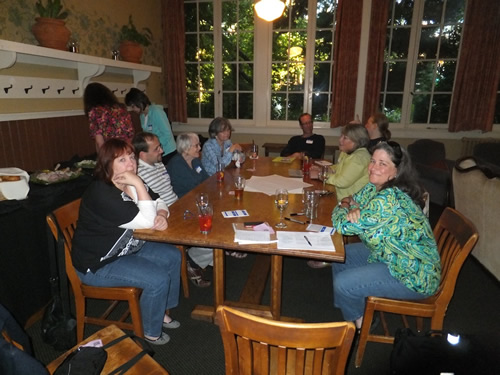 Many of them were just getting started with their chosen freelance opportunity and weren't quite sure what to do first. Some are partway through AWAI's Accelerated Program for Six-Figure Copywriting, but needed someone to chat with about what they are learning.
That's the value of these events. These Meet Ups are specifically designed to bring the people of a given geographic area together so they can get to know each other and help hold each accountable to their individual dreams. They can learn from each other, help each other, and inspire one another to keep going beyond that first step.
After spending the better part of an evening with this group, I am very confident they will do exactly that. Taking this one step — attending a gathering of fellow freelancers — provided them with the spark they needed to keep on going forward, one step at a time.

The Professional Writers' Alliance
At last, a professional organization that caters to the needs of direct-response industry writers. Find out how membership can change the course of your career. Learn More »

Published: August 15, 2012