AWAI Across America:
Destination — Winchester Bay, Oregon
The Other City by the Bay

The Little Town That Builds on Its Strengths
Where the Umpqua River meets the Pacific Ocean, you'll find Winchester Bay, one of the best-kept secrets on the Oregon coast.
Locally dubbed the "Crab Capital of the World," the population of about 382 is very engaged in keeping their town alive with activities throughout the summer.
That's why this is our fourth visit in five years, and why we're joined every year by many of the same friends. In the RV park … you name it and we've seen a license plate from that state.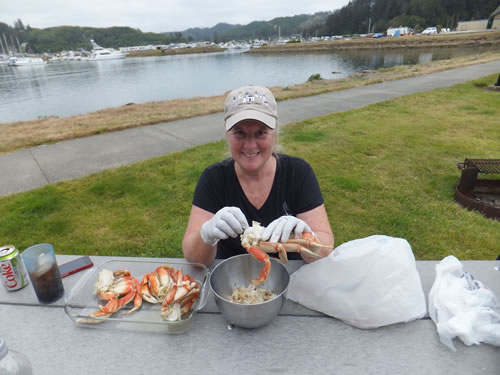 The Crab Capital of the World
In addition to the annual Dune Festival (which attracts ATV enthusiasts from all over), they have the "Art by the Bay" arts and crafts show. We also watched more than 300 antique, classic, and hot cars parade by our Rig during "Kool Coastal Nights."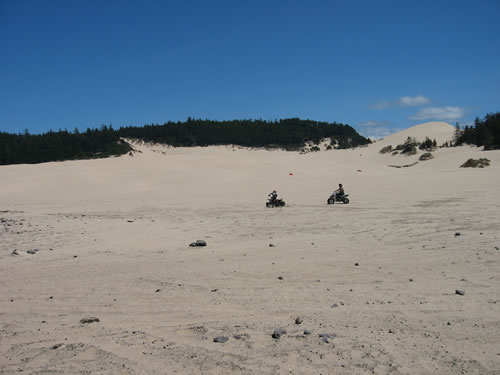 Tallest Sand Dunes in Oregon Dunes National Recreational Area
Then there's the Ocean Festival Bazaar, where visitors and locals spend their time trying to catch the specially-tagged crab to win $1,000, listening to the fine music at the Old Time Fiddlers Jamboree, or going whale watching … not to mention fishing, crabbing, clam digging, kite flying, enjoying local ice cream, and lots and lots of eating.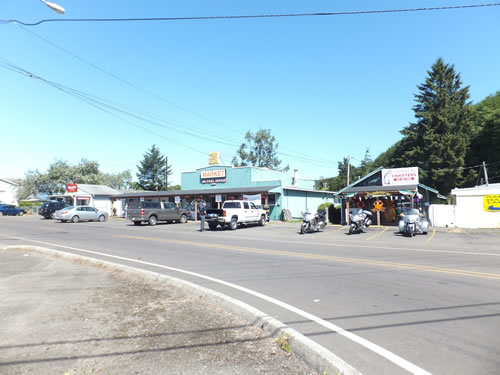 Downtown Winchester Bay
The people of this town remind me a lot of copywriters in the way you could build on your own area of expertise to create a freelance career. If you are a master gardener, you could write about gardening. If you are interested in self-help, then you might make that your niche.
You know what you have to offer and you go after the clients that need or want that particular knowledge or skill. Then you promote yourself as the expert you are.
Just like the leaders of Winchester Bay, if you do a good job giving your clients exactly what they need, they will continue to give you business in return.
That's why so many visitors come back here year after year. They know their expectations will be met.
If happy with your work, your clients will also recommend you to others with similar requirements … and by word-of-mouth, your business will continue to grow, just like the attendance at these seaside events.
For such a small town, Winchester Bay has created a wonderful tourism trade just by building on the strengths the area has to offer.
Of course, the fact that the local landscape is gorgeous helps the town's cause as well. The beauty of the ocean, the river, the bay, and the sand dunes is a wonderful draw.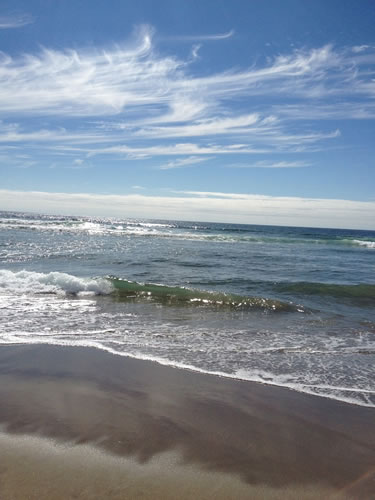 The Pacific Ocean Beach
The weather also cooperates this time of the year with high temperatures in the high 60s to low 70s during the day and in the mid 50s at night. It's a haven for those wanting to escape the heat of summer.
So just like this town uses the strengths of their surroundings, you, as a solo freelancer can make a great living — on your terms — by taking advantage of your unique skills and abilities.
The town of Winchester Bay wants to survive and thrive. They continually plan activities that keep the tourists returning and strengthening their economy. They provide what the visitors desire.
You, as a freelance writer, want to be successful. You need to determine where you can add value to your clients with your knowledge and capabilities.
Go to clients that are in your niche or area of expertise. Show them how you can help improve their business. Perhaps you can revamp their website, write an autoresponder series, design and manage their social media campaign.
Let them know how you can help them by using your specific skills.
Just like the little town by the bay, it is important to build on your strengths and keep on delivering what brings your clients back.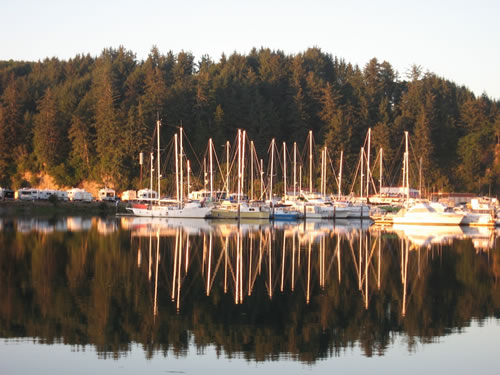 The view out of our windshield
You can continue to follow our excursion across the country in our RV here on AWAI's blog, Facebook, and Twitter. We're having a blast and really enjoy sharing the experiences with you!

The Professional Writers' Alliance
At last, a professional organization that caters to the needs of direct-response industry writers. Find out how membership can change the course of your career. Learn More »

Published: August 31, 2012