Live: The Barefoot Writer August Issue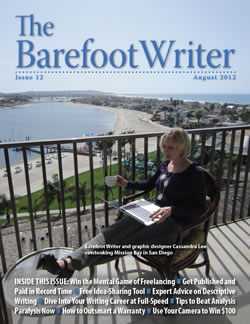 Ready for your shot at gold? Like the Olympic athletes in London right now, Barefoot Writers across the world are accelerating forward in their goals.
That's why our August issue is packed with ways to help you achieve your objective. If you're ready and willing, our goal is to help you transform your life and go after your passion. This month's issue shows you how.
Along with that, you'll learn …
Simple techniques to bring your writing descriptions to life
The key to benefit-rich living (and writing)
A free and easy way to collaborate with other writers
How to win the mental game of freelancing
Plus, you'll discover the single most important thing that dictates long-term writing success (and it's not talent, connections, or even big-name clients). You'll also be introduced to a unique writing opportunity that helps you quickly gain credibility in your field — and get paid, too.
Click here now to read your August issue of The Barefoot Writer.
Not a subscriber yet? Click here to learn more about becoming a member of The Barefoot Writer and start living the lifestyle you want by writing.

The Barefoot Writer
Discover a lucrative style of writing that will give you as much freedom as you can have while earning a great income at the same time. Learn More »

Published: August 3, 2012