Announcing a Very Special "First to Final" …

To become a great copywriter – a great anything for that matter – it's very valuable to know how the most successful people go about their work.
To know how a great surgeon works, for instance, you watch him operate.
If you want to know why a top architect is so successful, you follow her through an entire project – from conversations with the clients to the final building plans.
An effective way to get the deep insights as to how successful copywriters work would be to sit shoulder to shoulder with one for the six weeks that it typically takes to complete a full-scale project …
Short of that, you can take advantage of an exciting new learning tool available to writers called First-to-Final.
I've talked to you about First-to-Final before.
It's the name we've given our multimedia, detailed "case studies," where professional copywriters walk you through various stages of the copywriting process – from learning about the client and the market … to the search for a successful idea … to the early headline, lead and draft variations … all the way to the completed project.
Members of The Professional Writers' Association (PWA) are very familiar with the benefits of "First-to-Final."
Over the months they've been given "behind the scenes" access to many successful promotions from the last few years, making "First to Final" one of the most popular benefits of PWA membership.
Says Steve Roller
"I just listened to the PWA "First to Final" with John Forde.

Brilliant! I think this may be the most valuable benefit of PWA – the ability to essentially get a 'hands-on' look into the methods of an A-level copywriter.
The only other way you could experience this is if you were actually apprenticing for a top copywriter."
Typically a "First-to-Final" begins when we see a successful letter working in the market and we invite the writer who wrote it to talk about the project with us … and we work with them to create a "First-to-Final" presentation that will give PWA members good insights into the writing process …
But for our next "First to Final" we're going to do something a little different … something many AWAI and PWA members have been asking us to do for some time.
In short, we're in the midst of completing a comprehensive "First to Final" study involving one of our own projects: AWAI's very successful "Retire This Year" promotion.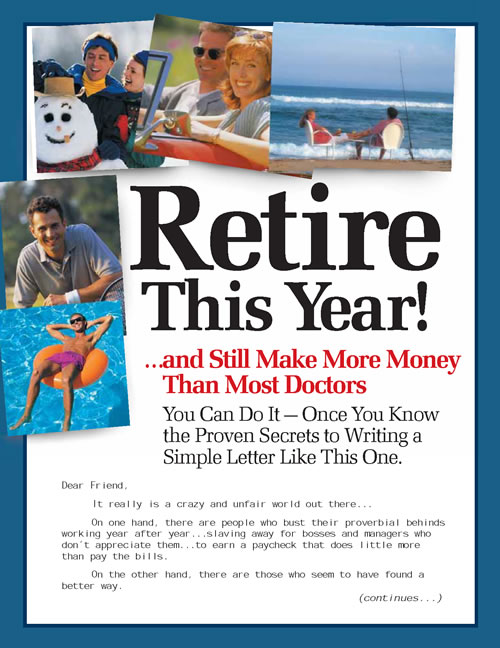 You may be familiar with "Retire This Year."
For most of the past 10 years, various iterations of this letter have been responsible for introducing thousands of AWAI members to the lucrative world of copywriting.
I can't tell you how many people have come up to me and said, "That 'Retire This Year" promotion … that changed my life!"
Maybe you're one of them …
Copywriter and AWAI co-founder Paul Hollingshead wrote the promotion. But like many so successful letters, he got a lot of help along the way … from Mark Ford (you may know him as Michael Masterson), other members of our team, and through the then fledgling "peer review" process.
But what really made "Retire This Year" such an enduring promotion was the strength of its core idea – which is what Paul will spend a good deal of time talking about in this First-to-Final presentation. He wants to show you how he "came up" with the promotion's core idea for two simple reasons:
One, because he recognizes that this is an area most copywriters struggle with the most … and "Retire This Year" was a classic example of understanding your market and using your environment to find strong ideas for anything you're selling.
And two, he knows through years of is own experience that having a good idea from which to work makes the entire writing process much easier.
As he explains:
"When you're working with a strong idea, a letter can practically write itself. When you have a weak or poorly developed idea your letter will become bogged down … and even the best writers will struggle with the writing process.
"Retire This Year" was a classic example of this. Once I had the idea, it was clear sailing. I was able to write the first draft in a matter of days. From there it was just a matter of showing it to some very talented people and improving it with their great ideas."
The "Retire This Year" version of First to Final will be the most comprehensive yet.
We've gone through our archives and retrieved all the draft stages of the letter and the dozens of "back and forth" notes from Mark and others with ideas for strengthening it … which ones Paul opted to use (and why) … and how he incorporated them.
There's also a substantial discussion with regard to the promotion's design. You see, Paul had originally written the promotion as a personal letter. But along the way Mark had the idea to turn it into a "magazine" format … and we'll tell you all about why and how that decision was made.
We're now in the process of putting together a full-length multi-media webinar presentation on the entire project, so you can know everything that went into making this idea one of the most successful promotions ever … and replicate it in your own business.
In fact, the "Retire This Year" First to Final is such an important and detailed study that we plan to offer it for sale to everyone just as soon as it's completed. The price is likely to be in the $150 – $250 range – and worth every penny when you measure the financial impact it can have on your next project (and not only for you … but for your client as well!)
But if you choose to become a Professional Writers' Alliance member through this special offer we've been telling you about – you'll see the "Retire This Year" First to Final at no extra charge … as part of your membership.
And the great thing about PWA membership is – not only do you get a ton of other benefits when you join – it needn't cost you a single penny!
Please click here for more details in PWA and all the benefits. (Or if you know you'd like to join risk free now, click here to be taken directly to the sign up form.)
But please hurry …
We're only extending the special terms of this offer until October 1st at midnight.
Don't be concerned if you see no mention of the "Retire This Year" First to Final project in the attached letter. It's an idea we've had and have been working on since this special PWA promotion began. But rest assured, when the project is completed a few weeks from now, you and your fellow PWA members will be the first to see it. Click here to learn more … or go here to go right to the sign up form now.

The Professional Writers' Alliance
At last, a professional organization that caters to the needs of direct-response industry writers. Find out how membership can change the course of your career. Learn More »

Published: September 27, 2012