Keep Your Team in the Game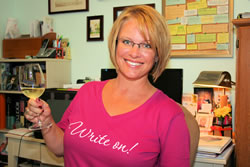 Michele Peterson here to wrap up our mastermind week in The Writer's Life.
Now that you know how to form and run your own mastermind group, let's talk about keeping that group going over the long haul.
But first, a quick story …
Two college football teams started the year with high hopes of a winning season. The coaches had recruited strong teams. The players had a shared vision of success. Nothing stood in the way of either team winning the championship at the end of the year.
But then on one team, players started missing practices. They were busy with their lives outside the team. Soon, some weren't even showing up to games. They thought, "The rest of the team can do it without me this time. They'll understand that I'm busy."
Of course, their absence hurt the team.
On the other team, the players conscientiously made every practice. More than that, they prepared beforehand. And they gave 110% during every game.
They made it to the championship game … and won!
So which players would you want on your mastermind team?
The 5 Ps of a Good Team Player
A good mastermind group member is:
1 – Present
Be committed to showing up and being present. Everybody brings a unique perspective to the group, and the group dynamic and energy is definitely diminished when someone is missing. Don't sell yourself short and think you don't matter to your group … you do!
2 – Punctual
Be on time to group meetings (or, as is the case with our group, conference calls). This is a simple matter of showing respect for your teammates.
3 – Prepared
If the meeting is going to be about goals and accountability, think about your goals ahead of time and be prepared to discuss them. Likewise, if the meeting centers on another topic – do your homework, and be prepared to participate in the discussion.
4 – Participative
A good mastermind member is an active participant who both gets and gives back to the group. Don't assume that someone else will respond to a request for a copy critique in your place or that everyone else will rally around the member who needs support. In other words, don't just enjoy the benefits of the group for yourself without returning the favor for others.
5 – Positive
At all times. There is absolutely no room for negativity in a successful mastermind group.
It's a good idea to do a regular self-check to make sure that you're fulfilling your commitment to the group and being a good team player.
But what happens when a group member is falling short of these five Ps? There's no referee who will call a penalty. It's up to you as a fellow team member to help find a solution.
That's when you call your team into a huddle …
Calling a Time-Out
When you notice a recurring problem with a member of your mastermind group, the first step is to find out what's really going on.
It's important to be nonjudgmental and non-threatening. The purpose isn't to lay blame, but rather to get the member back on track.
Feelings can get hurt in this process if you're not careful. Groups can fall apart instead of growing stronger, so you need to proceed with sensitivity and respect for everyone involved.
Sometimes, just a gentle reminder of the commitment expected from members of the group is enough. Other times, a little extra mentoring is needed.
And sometimes, the conversation needs to be about whether the member should consider opting out of the group.
When everybody in your mastermind is a good team player, your group has a better chance of sustained success. And so do you.
It's not always going to be easy. But it IS worth it!
Thank you for visiting our village this week. On behalf of all of my fellow Copy Stars, here's to your success …

The Professional Writers' Alliance
At last, a professional organization that caters to the needs of direct-response industry writers. Find out how membership can change the course of your career. Learn More »

Published: September 28, 2012