Live: The Barefoot Writer September Issue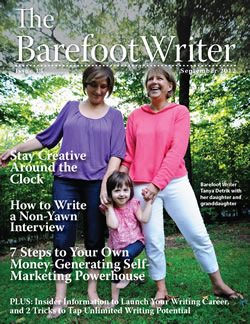 There's never been a better time to build momentum for your writing career. With fall about to be in full-swing, Barefoot Writers everywhere are gearing up for a highly-profitable season.
To get you going, we've packed our September issue with writing tips you can put into action immediately. Here's a sample of what's in store:
How to start life as a writer when you haven't worked in years
Your very own 7-day guide to a money-generating, easy self-marketing system
Tips from Jack London on cultivating your work ethic
How a 30-day novel-writing challenge might make you a better writer
11 ways to avoid creative burnout
Plus, don't miss details on the most popular, career-launching event of the year for Barefoot Writers. Get started early by participating in our monthly Barefoot Writing Challenge — your opportunity to get published and earn $100.
Click here now to read your September issue of The Barefoot Writer.
Not a subscriber yet? Click here to learn more about becoming a member of The Barefoot Writer and start living the lifestyle you want by writing.

The Barefoot Writer
Discover a lucrative style of writing that will give you as much freedom as you can have while earning a great income at the same time. Learn More »

Published: September 7, 2012