Your Copywriting Village

I'm sure you've heard the saying "It takes a village to raise a child." What happens when you apply this to your freelance copywriting career?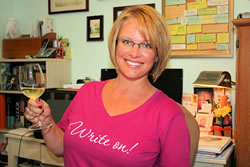 I know what happens to me …
Success!
Let me explain …
I'm Michele Peterson, and I attended the 2012 Web Copy Intensive just as I was getting serious about my freelance career. In addition to the great training and opportunity to meet pros like Rebecca Matter, Joshua Boswell, Nick Usborne, Heather Robson, Mindy McHorse, Jay White, and more – which I expected from the event – I also developed deeply powerful relationships with other attendees … an unexpected perk!
Finding My Village
Of the 50 or so copywriters at the event, I developed a special bond with four. We all saw the value in remaining connected, and we decided to keep in touch.
Actually, we decided to do more than that … we formed a mastermind group.
We've found we're so much more powerful together than we are individually!
The Benefits of Village Life
People form villages for sociability and defense, and our mastermind group fulfills these same functions.
We encourage and support each other. We bounce ideas off each other. We critique and edit copy, audit each other's websites, offer suggestions on pricing, hold each other accountable for moving forward toward our goals …
We are each other's Positive Committee, the ones who are guaranteed to "get it" when somebody has a victory to celebrate or a challenge to overcome.
We also serve as our very own Justice League in defense against the dark foes – doubt, discouragement, procrastination, and fear – that we all face at times.
For example, I had a tough experience recently with a local business. I had rewritten a few web pages for them and then hadn't heard anything … I actually wondered if they had gone out of business!
I finally got through to the owner's wife, who informed me that they couldn't use ANYTHING that I had written. They had already hired someone else to take over.
You can imagine the self-doubt and discouragement I was feeling! Thankfully, I had my village to turn to.
They helped me put it in perspective … learn from the experience … come out stronger for it.
And that's just one small example of the powerful benefits I've received from these fabulous freelancers that I've aligned myself with.
Meet My Writing Village
This week, our Copy Stars Mastermind group is sharing strategies for meeting and connecting with other freelance copywriters to form your own mastermind. We're also going to give you some guidance on how to get your group going and keep things running smoothly.
Get started by checking out Rae Robinson's article "Four Reasons Why You NEED a Mastermind Group." It has plenty of helpful insights.
Later this week, you'll hear from Copy Stars Linda Wilkinson, Leanne Rumsey, and Tanya MarCia. I'll be back again on Friday to wrap things up and show you how to sustain your group into the future.
Have you already connected with other like-minded freelancers? Have you started, or do you want to start, your own mastermind group?
Please share your story in the comments. Then come back and visit our village during this week. We hope you enjoy your stay!

The Professional Writers' Alliance
At last, a professional organization that caters to the needs of direct-response industry writers. Find out how membership can change the course of your career. Learn More »

Published: September 24, 2012