Live: The Barefoot Writer October Issue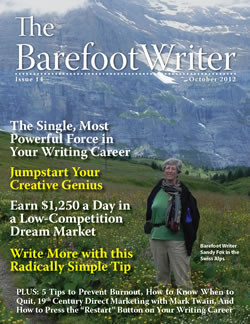 Have you figured out what you want your writer's life to look like?
If not, don't sweat it. Everybody takes a different path to the writer's life, which is what makes it so ideal.
In this month's issue alone, we feature a writer who got fired from her staff job, then stumbled into freelancing and realized she could triple her income.
We tell you how one writer ditched law school in favor of Barefoot Living, and how another turned to freelance writing to avoid getting evicted. As a result, both realized their dreams to write for profit and command their own time.
You'll also find a slew of new writing and business tips, including:
How to make the leap from your current job to Barefoot Living
What most influences writing success, according to Mark Twain
An unusual yet effective way to boost your mental power
Four blogs for writers worth reading
Honest advice on launching a profitable writing business
Best of all, we unveil a hot writing niche that's wide open to newcomers. Thanks to high demand and low supply, this type of writing could net you as much as $1,250 a day in fees.
Click here to access your subscription.
Not a subscriber yet? Click here to learn more about becoming a member of The Barefoot Writer and start living the lifestyle you want by writing.

The Barefoot Writer
Discover a lucrative style of writing that will give you as much freedom as you can have while earning a great income at the same time. Learn More »

Published: October 5, 2012