Why I Won't Be At Bootcamp This Year …

After attending AWAI's FastTrack to Copywriting Success Bootcamp and Job Fair for the past three years in a row, I won't be there in 2012.
Not because I don't want to be …
It's just that I have a VERY good reason not to be!
You see, since I launched my copywriting career at the 2009 Bootcamp and Job Fair, I've been living the writer's life. And I can't tell you how many times I've had to pinch myself during the past three years to see if it's still true.
I don't think I've set an alarm clock that whole time. As long as I get my work done on deadline, I can work whenever and wherever I like.
And right now, I'm living and working in Italy!
It's a dream come true … thanks to copywriting.
If you've read my story, you know that I lost my corporate job in the depths of the recession. I was unemployed and fearful of how to make a living for a good while. It was a huge decision for me to go to Bootcamp the first time, but it was a major turning point in my life. In that short little span of three days, I learned enough solid information — and made enough valuable contacts — to have work ever since! Each year, I look forward to the AWAI sessions in Delray Beach for a number of reasons:
The Bootcamp presentations are jam-packed with the best and most current information on copywriting and the business of copywriting you will ever find in one place.
The lineup of speakers — all "heavy-hitters" in the industry — is always stellar. Not only that — those same professionals really do make themselves available to talk to you. I have chatted with Bob Bly, Michael Masterson, Don Mahoney, Paul Hollingshead, Nick Usborne, and many more. They really are there for you! And if you don't network you are cheating yourself!
You also have the chance to meet others on the copywriting journey. It's a great opportunity to make contacts with folks who are doing just what you're doing — and you can even hook yourself up with a "mastermind group" when you find those you want to stay in touch with.
Job Fair, of course, is amazing. AWAI pulls out all the stops to match up copywriters looking for work with companies who actually know what copywriters are — and are looking for them! I think this is what I will miss the most this year because I ALWAYS get new contacts and more work from Job Fair! In 2010, I was hired by NewsMax on the spot to write a monthly health newsletter. In 2011, I expanded my interest in travel writing and was able to write for International Living magazine.
As I mentioned, I now live the writer's life, which brings me back to why I'm not going to be there …
Many years ago, when I was a college art student, I desperately wanted to go to Italy to paint. But life intervened, as it always does, and I never took that trip. I did manage to visit Europe several times, but only very quickly. A week's vacation from a corporate job just doesn't give you much freedom. And the trip is a distant memory before you know it.
But now I've rearranged my life because I can. As a freelance writer, I have a lot of flexibility. And I recently decided to downsize so I can travel more. And first on my list was Italy because I've been "saving" it. I never wanted to go to my dream destination unless I could stay for a while … and now here I am!
My vocation — writing — has made it possible. And my avocation — painting — is making me very happy indeed. Here's what's happening:
I started with an art class in Barga, a small mountain town in Tuscany. That was my "vacation," so to speak. Then I arranged for an apartment in Lucca for the month of October, complete with Internet so I can work. I actually had a week in between the two accommodations, so I stayed at a B&B on the coast in Viareggio. Every morning, I had a lovely breakfast, worked for a few hours, and then strolled to a café with my sketchbook. I can now fluently say, "vino bianco, per favore!"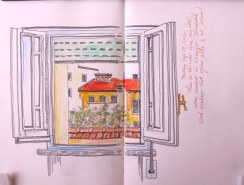 Can you even imagine?
This is truly the writer's life!
While I'm here, I plan to do more travel writing — and I have made a few connections through AWAI to make that happen! Nothing like turning the whole thing into a business trip for tax purposes!
So I couldn't be more thrilled with my writing career and the lifestyle it has given me. I will have to miss Bootcamp this year, but now you know why. And I understand that it sold out again, so one of you fortunate people can thank me for your spot!
I WILL be tuning in to see what I miss — which is easy with the 2012 Bootcamp Home Study Program. It includes audio, transcripts, and slides of all the presentations, as well as the resource materials. And I'll get copies of all the Spec assignments that were available at Job Fair — which has been a primary source of work for me.
If for some reason you can't get to Bootcamp either, the Home Study Program is the next best thing. It's an economical way to have the Bootcamp experience and get the same opportunities of being there.
It's because I attended my first Bootcamp that I'm here in Italy living a lifelong dream — and it doesn't get any better than that.
And if you want to follow my adventures, I am keeping a blog for friends and family back home. I am a writer after all! The website is http://thesketchylife.wordpress.com/. (I learned how and where to start a blog from AWAI!) So check it out. And hopefully, you are getting yourself to Bootcamp.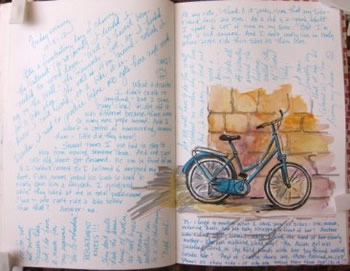 Hey, if you can't be in Italy, then you should be in Delray Beach. It's where copywriting — and the possibility of a whole new life — is happening. And if you can't be in Delray Beach, you can still create a whole new writer's life from home — starting with the 2012 Bootcamp Home Study Program.
Ciao for now!

The Professional Writers' Alliance
At last, a professional organization that caters to the needs of direct-response industry writers. Find out how membership can change the course of your career. Learn More »

Published: October 22, 2012