Special Announcement …


Congratulations to AWAI's Latest
$10K Challenge Winner …

On Saturday, October 27th at AWAI's 2012 FastTrack to Copywriting Success Bootcamp and Job Fair, Executive Director Katie Yeakle announced the newest winner of AWAI's "$10K Challenge."

And the winner is …
Guillermo Rubio!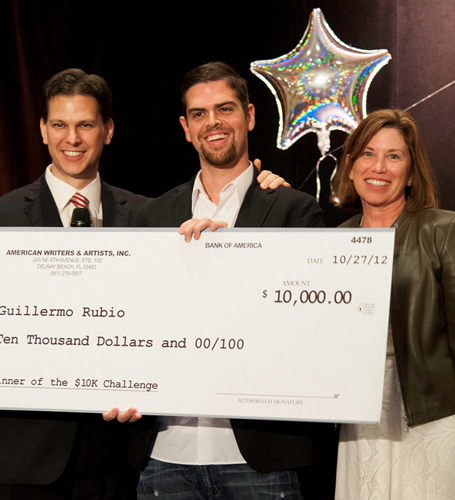 Joshua Boswell, Guillermo Rubio, and Katie Yeakle
Rubio has been a freelance copywriter for five years, with seven years as an AWAI member. He specializes in Business-to-Business (B2B) writing for software and high-tech companies.
Like many copywriters, Rubio cites time freedom and the ability to set his own schedule as his primary motivations to be a freelancer.
"It feels great to win. Especially when I found out that my copy was instrumental in helping AWAI achieve better-than-expected results," says Rubio. "As for what it means to my copywriting career, it shows my copy works and that the principles AWAI teaches work. For me personally, it's something that greatly bolsters my confidence and symbolizes a milestone in my career."
The $10K Challenge allows any active AWAI member to submit a sample headline and lead of a sales letter for any of AWAI's more than 60 products and services. If the AWAI marketing team likes what they see, the writer gets the chance to go through the peer review process to further develop their idea. The next step for the entrant is to write a complete sales letter and have it mailed to AWAI subscribers for a real-world test.
Among all those who submit sample letters, only those whose test letter is successful are eligible. And only one is chosen each year to receive a $10,000 contract.
Rubio's winning entries were sales letters for the B2B Live! Three Days to Mastery event and the Home Study Program for that conference.
Find out more about AWAI's $10K Challenge and how to enter (the Challenge is open to any AWAI member).

The Professional Writers' Alliance
At last, a professional organization that caters to the needs of direct-response industry writers. Find out how membership can change the course of your career. Learn More »

Published: November 2, 2012